North East
NF Railway Participated in Bhogali Bihu Sanmilani at Nagaon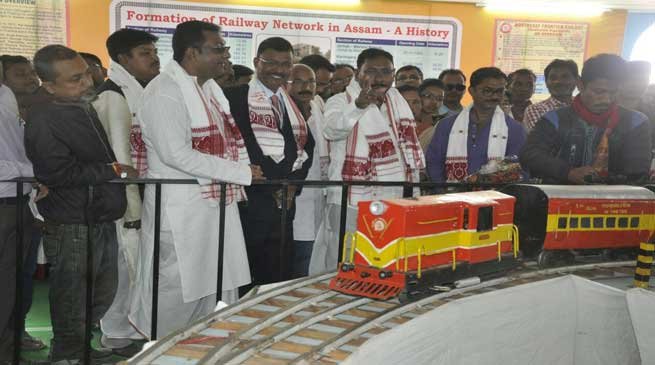 Guwahati
For the first time N F Railway participated in the exhibition of Brihattar Nagaon Bhogali Bihu Sanmilani started from January  13 and continued up to January  17 at Dawson school playground, Nagaon. Many informative write ups and Railway models were displayed in the exhibition which attracted a large number of visitors.
A Railway Quiz Competition was also held  at the Railway Exhibition Stall on January 15. The Quiz Competition was inaugurated by Rajen Gohain Minister of State for Railways in presence of Rupak Sharma MLA Nagaon Sadar and Amitav Bora General Secretary of the Bihu Sanmilani.
 In the inaugural speech  Gohain gave a brief description on the Indian Railways system. He encouraged  the students  to compete the Railway and other departmental exams gathering good knowledge on railways so that they can show their talents. Railway is the lifeline of the country, therefore everybody should have knowledge on railways.
He also declared a new train service ASTHA EXPRESS for the devotees of the North Eastern region to be started from February 17 covering many religious places of the Eastern sector. Local MLA and the Secretary of the Bihu Sanmilani appreciated N F Railway for arranging such a nice  exhibition and railway quiz at Nagaon for the greater benefit of the public and students.
The winners of the railway based quiz compitition were awarded with prizes and certificates. A large number  of students participated in the event. The Quiz was conducted by Nripen Bhattacharyya Public Relations Officer  N F Railway with all railway related questions.