North East
NF Railway organised Awareness Campaign against Open Defecation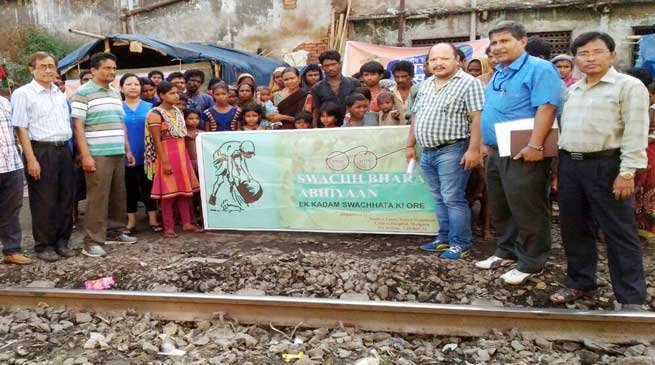 Guwahati
On the occasion of Birth Anniversary of Pandit Deendayal Upadhyay on 25th September Northeast Frontier Railway  along with Ministry of Urban Development, Govt of India and Govt of Assam organised an awareness campaign against the open defecation in the slum area of Guwahati Fancy Bazar Gate No.3 launched by N F railway yesterday in order to prevent harmful diseases caused due to it.
Shri B Sonowal, Chief Medical Director and Shri Sugata Lahiri, Chief Rolling Stock Engineer of N.F. Railway, State Health Officer of the Govt of Assam alongwith other Railway staff and officers were also took part in this campaign.
They contributed by walking alongside the railway track from Gate no. 2 to Gate no.3 and  advising  the slum occupants against the serious health issues caused by defecating in open places.
The slum residents appreciated the Railway authorities for this move and assured them that this will not happen in the future. It is hoped that the N.F. Railway is committed towards their role of keeping their premises clean by organising such events from time to time and this will certainly boost the success rate of the Swachch Bharat plan initiated by the Prime Minister.