Arunachal
Namsai- KVK organised Sankalp se Siddhi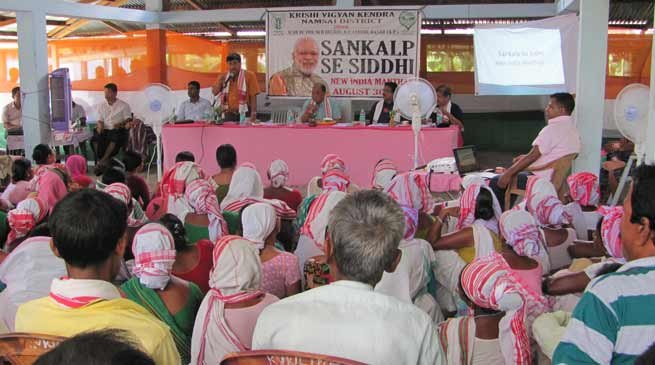 Namsai 
The new India manthon "Sankalp Se Siddhi"programme was organised by KVK, Namsai district on Wednesday at Napotiai village of Chongkham circle. The Honourable MLA and public leaders of the district were participated in the programme.
On his speech, the Honourable MLA cum Parliamentary secretary, Environment and forest, Govt. of Arunachal Pradesh Chow Tewa Mein appealed to the farmers to adopt new technology and scientific and integrated farming system.
He gave emphasis on organic farming and expresses his concern to establish an organic market in his constituency for betterment of both producers and consumers. He further urged to all officers to implement the Govt. schemes honestly and interact with the farmers regularly. Chow Tewa Mein was attended the programme as Chief Guest.
All most all the district officer and other officer of agriculture and allied department along K. Sharma, DVO cum i/c DPO highlighted the different policies, beneficial schemes of the governments as an expert and pointed out how they will be benefited out of them to achieved double income by 2022. Initially Dr. B.K.D. Borah, SMS, Animal science cum i/c Senior Scientist cum Head described the purpose of the programme. A video was shown to the gathering that includes a message of Honourable Prime Minister of India and also a pledge was taken for New India movement.