North East
MOs Railways Rajen Gohain Holds Review Meeting with Freight Stake Holders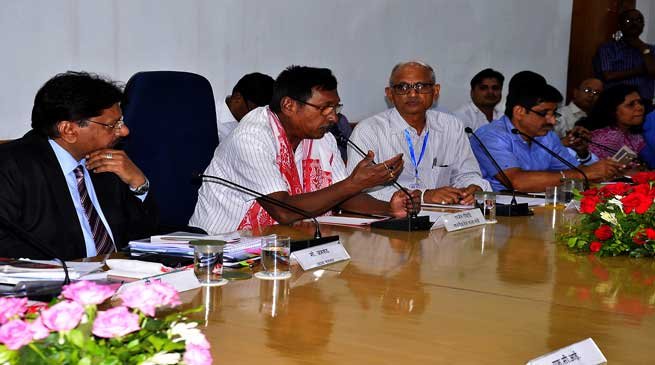 Guwahat
The Union Minister of State for Railways, Shri Rajen Gohain today met various freight stakeholders of Railways, who use railways for transporting goods and materials, to review the freight & parcel traffic scenario in N. F. Railway. The meeting was also attended by senior officials of the Railway Board – the topmost policy-making body of Indian Railways – including the Member Traffic Md. Jamshed and the Advisor (Coaching) Shri Purushottam Guha. From N. F. Railway's side, the General Manager Shri Chahatey Ram, General Manager Construction Shri H K Jaggi, Additional General Manager Shri Ratan Lal, all Principal Head of Departments and other senior officials were present at the meeting that discussed all issues pertaining to freight loading and railways role in bringing in tangible improvement in overall freight loading scenario. Industry representatives from oil, cement, gypsum, dolomite and other sectors, who use railways in major ways to transport their materials, were present at the meeting held at N. F. Railway Headquarters at Maligaon.
The industry representatives elaborated on their requirements including additional infrastructures for transportation of materials and requisite helps needed from the railways. The Minister noted their requirements and assured all possible steps to help the industries. He said, railway will spare no effort to help industries of the north-eastern region as the over-all socio-economic development of the region is intrinsically related to industrial development. Strengthening of railway freight traffic scenario will help in rapid economic growth of the region, he said. The Member Traffic in Railway Board, Md. Jamshed made a presentation highlighting the initiatives of Ministry of Railways under the leadership of Shri Suresh Prabhakar Prabhu for
improvement of freight and passenger services in Indian Railways. He also instructed senior railway officials to look into the issue raised by the industry representatives in the meeting.
Later in the day, Shri Gohain also met the Members of Parliament from Assam and a high-level team of the State Government led by the Chief Minister of Assam, Shri Sarbananda Sonowal, at Administrative Staff College in Khanapara to elicit their suggestions and views related to development of railways in the region. This is for the first time that such an initiative involving dialogue with peoples' representatives for holistic policy-making for developmental initiatives by Railways in the north-eastern region has been taken.