Itanagar
More Departments to Cabinet Ministers as Additional Charges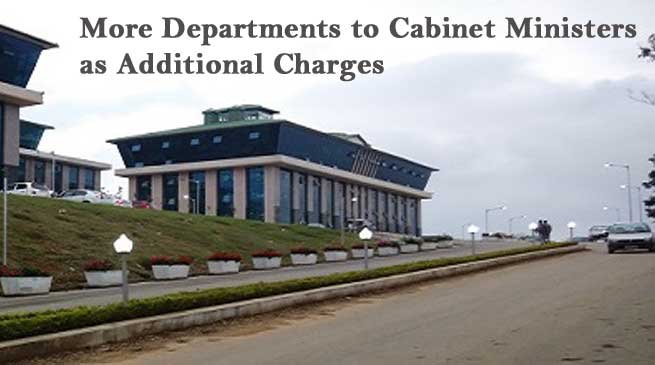 Itanagar
On advice of the Chief Minister, the Governor of Arunachal Pradesh, in pursuance of Rule 5 of the Arunachal Pradesh Rules of Executive Business, 1987, has allocated few more departments to the Cabinet Ministers as additional charges.
Honchum Ngandam, who holds the portfolios of Education and Libraries, will have additional charges of Economics and Statistics, while DoTCL, Agriculture and Trade & Commerce Minister Wangki Lowang will look after Fisheries in addition to his existing portfolios.
Food & Civil Supplies, WRD and Geology & Mining Minister Kamlung Mossang has been allocated the additional charges of Legal Metrology and Consumer Affairs.
Nabam Rebia will take over the charge of Land Management in addition to his existing portfolios of Urban Development, Town Planning, Housing, ULB and Law & Justice.
While Border Affairs will be looked after by Home, RWD, Labour & Employment Minister Kumar Waii, Health & Family Welfare Minister Jomde Kena has been allocated the additional charge of Gazetteers.
Tamiyo Taga, minister of Power (Elect), Industries, Textile & Handicrafts will also oversee Election as additional charge, while Panchayati Raj and Rural Development Minister Alo Libang gets additional charge of Co-operation.
Dr Mohesh Chai, Minister for Animal Husbandry & Dairy Development and Art & Culture, will take over additional charges of the Research department.
Minister of PHE & Water Supply, Bamang Felix, will now take over the additional charges of IPR & Printing as well as Parliamentary Affairs.
Meanwhile, veteran leader from West Kameng and MLA Japu Deru has been appointed as Advisor to the Chief Minister with status of a cabinet minister.
In another notification today, the Chief Minister made partial modification in the portfolios of Parliamentary Secretaries and allocated them additional charges for effective governance.
Horticulture Parliamentary Secretary (PS) Punji Mara gets additional charge of Cooperation, while Phurpa Tsering (Health & Family Welfare) will also take over as Information Technology PS. While RWD PS Jambey Tashi will hold additional portfolio of Skill Development, P D Sona (Tourism) will also take over the Civil Aviation charge.
WRD Parliamentary Secretary Gum Tayeng will additionally look after Art & Culture and Research, while Tapuk Taku (Tax & Excise) will also look after Science & Technology. Kumsi Sidisow, who is the PS of PHE & WS, will now have additional charge of Economics & Statistics, while Techi Kaso, UD & Housing, Town Planning and Municipal Affairs, will also oversee PWD.
Home Parliamentary Secretary Pani Taram gets the additional charge of Education, while RD and Panchayati Raj PS Mama Natung gets the additional responsibility of IPR & Printing. Tatung Jamoh, PS of Agriculture, will have additional charge of Fisheries, while Sports & Youth Affairs PS Nyamar Karbak will have the added charge of Parliamentary Affairs.
Chow Zingnu Namchoom, who is the Parliamentary Secretary of Planning, will take the additional charge of Personnel, Administrative Reforms & Training.