Arunachal
Mission Centre Celebrates Silver Jubilee Celebration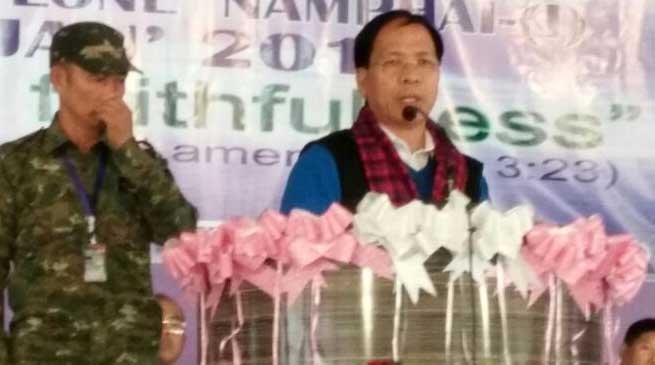 Changlang
The Sivler Jubilee celebration was organized today at Mission centre, New Plone, under Changlang District Christians Revival Chruch Council,  which started from 14th January and culminated on Sunday with great enthusiasm and gaiety.
There were three renown Speakers in this unprecedented occasions who spoke a God messages to mark the God faithfulness for 25 years. They were Rev. Dr. Shiwoto Assumi, Rev. Dr. Nyakdo Tasser and Rev. Ngolo Chingo Koza.
The jubilant was graced by Honourable Cabinet minister, Kamlung Mossang for WRD, Geology mining and Civil Supplies as the chief guest and Laisam Simai, MLA as the guest of honour. Both of them exhorted the mammoth congregation and advocated peace and to be faithful and trustworthy towards God who had been faithful throughout the life this 25 years. They were of the opinion that man cannot live by bread alone but by every words that comes from the mouth of God.
The MLA Laisam Simai. further exhorted and encouraged every individuals who were in the pendal to forget and forgive one another and to give up everything that hinders the walk with God. He emphasized that we need to care about our prosperity by inculcating the ideals of Jesus Christ. During the occasion, the pioneer leaders and all the pastors from thirty churches and five fellowships Women pastors various lay workers and many more important delegates were felicitated by the organizing committee leaders to acknowledge their hard labours in the field of ministry.
Mr. A.J Lungphi, Mr. Tunno Mossang and Mr. Evan. C.M Khipthan were the President, General Secretary and Convenor of the Silver Jubilee celebration 2017 respectively. The silver Jubilee event was  celebrated with much fanfare and gaiety for two days. The first day of the silver Jubilee celebration was graced by Honourable Parliamentary Secretary for Disaster management Nikh Kamin as a chief guest. He exhorted the congregation and the organizing committee to abide by the teaching of Jesus Christ and to upgrade their lifestyles through His ideals.