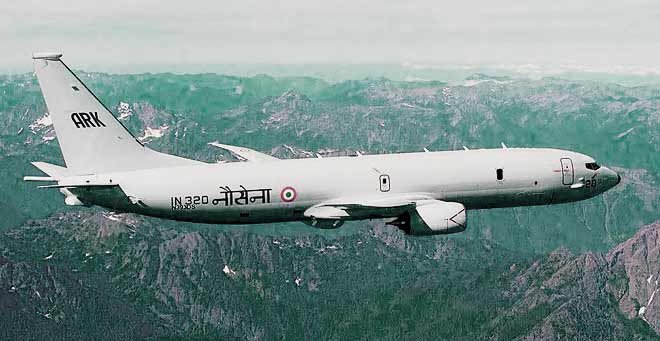 The aircraft P8I is airborne from INS Rajali, Arakonam, Tamil Nadu on Friday morning. It is equipped with special radars and sensors which will help locate the missing plane.
---
Chennai / Itanagar
The Indian Navy on Friday pressed its Long Range Maritime Reconnaissance aircraft P8I in the ongoing search operation for the AN-32 aircraft of IAF which went missing on June 3 in Arunachal Pradesh.
The aircraft P8I is airborne from INS Rajali, Arakonam, Tamil Nadu on Friday morning. It is equipped with special radars and sensors which will help locate the missing plane during the search operation, informed the Indian Navy.
"Long Range Maritime Reconnaissance aircraft P8I airborne from INS Rajali, Arakonam, Tamil Nadu for the ongoing search operations for missing AN-32. It will carry out a search using its special radars and sensors for locating the plane," informed Indian Navy.
The search operations for the plane, which went missing over Arunachal Pradesh, entered the fifth day on Friday. Bad weather conditions on Wednesday had put a halt to the search operations by helicopters, however, two Sukhoi-30 MKI combat jets and one C 130J aircraft carried out night missions to locate the plane.
The AN-32 aircraft had taken off from Assam's Jorhat on June 3 and was headed for Mechuka Advance Landing Ground (ALG) in Arunachal Pradesh when it lost contact with ground authorities at around 1300 hours and went missing.
Indian Army on Thursday deployed unmanned aerial vehicles (UAVs) for search. The IAF had also said that Cheetah choppers have been deployed in the search operations.
Meanwhile the IAF in a series of tweets said, " Search by IAF & Indian Army helicopters was adversely affected by localised weather in the valleys. All leads from airborne sensors including by Indian Navy being closely assessed and  followed-up with search by aircraft and ground teams."
The IAF also said that the area of search has been expanded and more assets including smaller and more manoeuvrable helicopters like cheetah have been included in the rescue mission so as to approach areas inaccessible by bigger helicopters or individuals on foot.
As per sources,  search and rescue operation by helicopters  on Thursday morning was affected due to rains and bad weather but was resumed after the weather improved.
 The search for missing aircraft  has been carried out  in Siang district and the  adjoining areas in Arunachal Pradesh, sources said.
Expressing concern over the safety of the IAF crew and five passengers traveling in IAF AN 32 aircraft which went missing, Arunachal Pradesh Chief Minister Pema Khandu has called all the district administrations of Siang, West Siang, Lower Siang and Shi-Yomi to intensify search operation.
On the other hand family members of Ashish Tanwar, the pilot of IAF AN 32 aircraft, met Defence Minister Rajnath Singh at his residence here on Thursday.
It may be mentioned that the DCs of these districts are in close coordination with the IAF and helping them out with all possible  means.
Deputy Commissioners of Siang and West Siang apprised Chief Minister about the steps initiated by them to trace the missing aircraft and said that they are working in close coordination with each other. They arranged three teams consisting of  3/4 local in each team to trace out the missing Aircraft and the people onboard, Chief Minister's Office (CMO) said in a release on Thursday.
Today three person of Tumbin village stated that on the incident day and time when they were doing field work  saw a thick black smoke which was originating from  a different mountain which has  a aerial distance of about 7/8 KM towards the Molo village. This fact is also being verified. In addition to three search parties, tomorrow one party from Shi- Yomi district and one party of Army is also climbing to possible locations to search the  Aircraft, the DGP informed the CMO, it  said.
CM has asked the concerned DCs to intensify the search operation and also appealed the villagers of the adjoining areas falling in the probable route of the aircraft to provide any sort of information to the nearest administrative headquarter or police outpost.
He also appealed them to join in the search operation so that the missing aircraft and the crew and passengers on board could be traced out at the earliest.