Arunachal
Medical Colleges at Naharlagun and Tezu will be Established Soon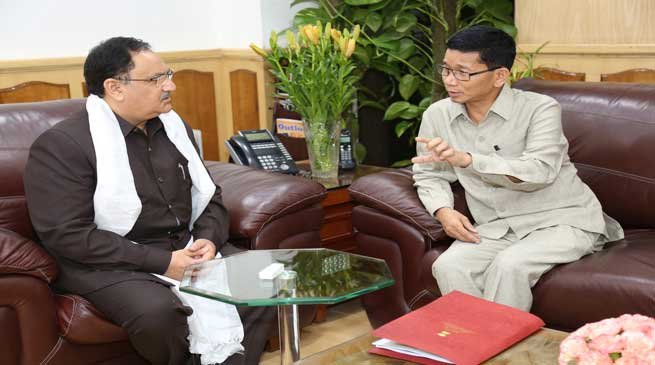 New Delhi
Arunachal Pradesh is all set to see improvement in its public health infrastructures and facilities with establishment of several new health institutes across the state.
This comes in the wake of assurances from the Centre of immediate sanctioning of funds for establishment of state's first medical college in the state at Naharlagun, and in addition to assurance for establishment of one more medical college at Tezu.
 The assurance came when Chief Minister Kalikho Pul called on Union Minister for Health and Family Welfare JP Nadda at his office in Nirman Bhawan, New Delhi to apprise him on the need to improve the ailing health scenario in the state.
 Seeking support for establishment for one more medical college to be established at Tezu, Pul said that it would give improved access to quality health care and medical education for eastern part of the state.
 Tezu being strategically located in the eastern zone, a medical college here would not only be used for civilian purposes but would also be useful for armed forces and paramilitary forces and can be of use during eventuality of armed conflict and wars, the CM observed.
 Further, the Chief Minister sought support for establishment of Nursing college at Itanagar. He also asked for establishment of two more Nursing schools at Bomdila and Tezu to which the Union Minister agreed to provide funding for Nursing schools and college.
 To help state government in its effort to improve the health care facilities, Health Minister Nadda agreed on one-time support for infrastructure, procurement of medicines, equipment etc. He agreed for a financial assistance of Rs 83 crore to help the state in making all the health institutes to be made fully functional.
 Also the Union Minister agreed to revise the Personal Independence Payment (PIP) benefits if need be, a welfare scheme aimed at meeting extra costs of living due to health ailments or disability.