Sports
Match Preview- Shillong Lajong Vs East Bengal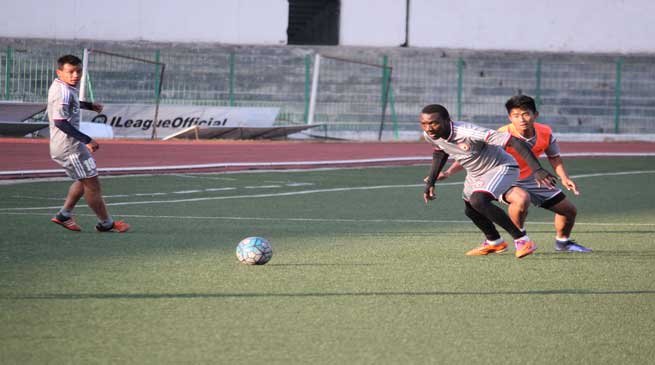 Shillong
Shillong Lajong FC will be gunning to continue their impressive home record against East Bengal in the Hero I-League when the two clubs go head to head at the JN Stadium, Shillong, on Saturday at 4:30PM.
Lajong have an exceptional record against the Kolkata club, having defeated them on four out of six occasions at home in the competition, their best record against any long-standing I-League club.
For their part, this year's current table toppers East Bengal have only won once, back in 2013-14. However, the Red & Gold brigade have had excellent away form this season, winning four out of their five games on the road and tomorrow's match thus promises to be an exciting contest.
The two sides have already met this season when East Bengal played host to Lajong in Siliguri on 15th February in a match that ended 1-1.
Coupled with the resounding 4-1 triumph four days later at Chennai City FC, the Reds, who are in fourth position on 16 points, are in a bullish mood.
"Drawing against East Bengal earned a good point for us and we also had a good result against Chennai," Lajong coach Thangboi Singto said at the pre-match press conference here today. "We need to stick to the basics and defend much better than we have done in the past; we should have kept a clean sheet against Chennai. We cannot afford any defensive lapses against East Bengal, who I feel have the strongest and most-balanced team in the I-League," he added.
Singto also said that the East Bengal squad has a number of players who are well known to Lajong, which enables the home team to develop a plan to neutralise them.
The Reds received a shot in the arm this week with the re-signing of key defender and crowd favourite Aiborlang Khongjee. Singto informed that Khongjee will figure in tomorrow's squad, but given that he has had only a few training sessions with the club, he may not play the full 90 minutes.
"I am very happy to have Aibor back. It was always the plan, but he had personal commitments at the start of the season and we respected that. His presence brings a lot of strength and depth to our back line," the gaffer stated.
Going up against Singto is a familiar face at East Bengal, that of their coach Trevor Morgan.
With his side at the top of the table on 24 points with just one defeat in 11 fixtures, the situation is a comfortable one, but Morgan knows that Saturday will be a big test for his boys.
"We are in a good position and we know what we have to do tomorrow and we can't use not having a good record here as an excuse. It's going to be a tough game. We've set ourselves to win, but if on the day we can't win then it's important for us not to lose," Morgan said at the media interaction. "It's a very competitive season this year with any team able to beat any other team," he added.
The Kolkatans are coming into the match after having outplayed defending champions Bengaluru FC 3-1 away, their first victory in four games, and their coach said that the squad will be very similar in tomorrow's contest.
Also at the press conference was the Reds' U-22 defender Nim Dorjee Tamang, who has led the side in the last seven matches. Having been victorious in five of them, Nim's captaincy record is an enviable one and he said that the team are ready for the match and will give 100 percent on the pitch and he hoped for a good turnout of Lajong Faithfuls at the ground.