North East
Massive Cleanliness Drive Begins in NF Railway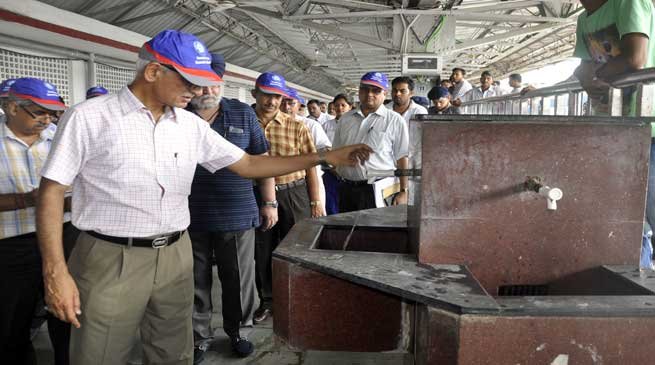 Guwahati
A massive cleanliness drive over all the five divisions of N. F. Railway Katihar, Alipurduar, Rangiya, Lumding  and Tinsukia, involving more than 150 officers and hundreds of other employees started from 17th September as part of the countrywide Swachhata Saptah being observed by Indian Railways.
During the first two days of the drive in N. F. Railway's jurisdiction covering nine states, more than 184 stations including 17 A-1 & A category stations and 119 trains were inspected for ensuring cleanliness.
The General Manager  Chahatey Ram conducted a detailed inspected of the Guwahati Railway station on several parameters including clean catering service, clean drinking water and clean station premises on 18th September along with senior officials from Headquarter.
Ram  had ordered immediate remedial measures to correct the deficiencies noticed and later addressed media persons elaborating the philosophy behind observation of the Swachhata Saptah and N. F. Railway's endeavors towards realizing the dream of a Swachch Rail – Swachch Bharat (clean railway – clean India).
He said, without the co-operation of rail users, Railway's effort for maintaining absolute cleanliness in station premises and train will never be successful. The General Manager also inspected Azara railway station today.
It may be mentioned, to sustain the impetus in the field of cleanliness provided by the week-long drive called Rail Hamsafar during May-June this year, the Indian Railway is observing a nine-day cleanliness drive covering all stations, all trains, all residential colonies, all catering units and pantry cars from 17th September to 25th September. During the drive, each of the days is christened with a theme-based name.
The first day of the drive (i.e. 17 September) christened as Swachch Paryavaran (clean environment) day, was dedicated towards cleanliness of the entire environment involving beautification of stations, plantation of trees and garbage disposal.
The second day of the drive (i.e. 18 September) christened as Swachch Station (clean station) is dedicated for intensive cleanliness of all stations, providing large numbers of additional dustbins for segregated collection of waste and involvement of NGOs, Charitable Institutions, Scouts and Guides for building awareness on cleanliness. Similarly, other days viz. Swachch Railgadi, Swachch Neer, Swachch Parisar, Swachch Sahyog, Swachch Samvad, Swachch Samarpan and Swachch Aahar will be observed with utmost zeal and dedication till 25th September.