Arunachal
Manoj Sinha commenced location surveys of BG railway lines in Arunachal Pradesh Naharlagun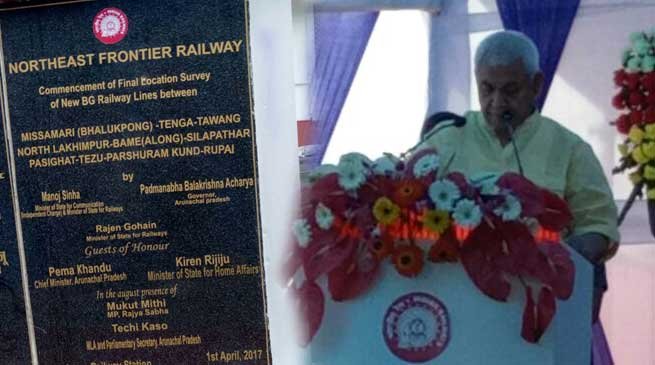 Naharlagun
Manoj Sinha Minister of State for Railways & Minister of State for Communication (Independent Charge) today commenced the final location surveys of three new BG railway lines in Arunachal Pradesh during a ceremonial function held at Naharlagun railway station. Kiren Rijiju, Minister of State for Home Affairs, Nabam Rebia, Minister for Urban Development, Government of Arunachal Pradesh, H.K.Jaggi, General Manager (Construction), N.F.Railway along with other dignitaries were also present.
Expansion of rail connectivity in the Northeast has been the topmost priority of the Government under the able leadership of Hon'ble Prime Minister. North-eastern region has a very special place in all development agenda of the Government of India. Arunachal Pradesh became the first North Eastern state after Guwahati to have BG Rail connectivity directly to it's capital city when Prime Minister Narendera Modi flagged off the 1st AC express train from Naharlagun station on 20th February 2015 connecting the capital of our country. Before that Bhalukpong was the only railway station in Arunachal Pradesh.
Keeping up with the Government's decision to connect all capitals of Northeast States on the railway network by 2020, Capitals of Arunachal Pradesh and Tripura are now connected with a BG line with rest of India. In the past three years, Broad Gauge railway network has also been extended into the states of Meghalaya, Tripura, Mizoram and Manipur. Thus, total 5 states have been brought on the BG network during last three years. With this, all the NE states except Sikkim are now connected on Broad Gauge network.
With the commencement of the final location Survey for three BG Railway lines i.e. BG connectivity to Tawang (Bhalukpog-Tenga-Tawang) 378 kms, BG connectivity to Along (North Lakhimpur – Bame – Along-Silapathar) 247.85 kms & BG connectivity to Parsuramkund (Pasighat – Tezu – Rupai) 227 kms connectivity to northern & eastern frontiers of Arunachal Pradesh will improve leaps and bound. Tourist from places will find it easier to visit Arunachal Pradesh to explore its natural beauty. Economic activity will greatly flourish in the region. Once completed, these lines will also provide all weather connectivity to tourist place like Tawang & Parshuram Kund. Thus, tourism sector in this region will also get quantum jump.
Modern surveying technique will be adopted for these projects to overcome the challenging terrain. It will take about three & half years to complete these surveys and targeted to be completed by October, 2020. Very long tunnels & bridges will be required to be constructed in these projects. While the realistic cost assessment will be known only after completion of final location Surveys but, roughly the  cost of these 3 lines is expected to be around 60  to 70 thousand Crore.
In addition to these three final location surveys, Reconnaissance Engineering Cum Traffic Survey (RETS) has also been sanctioned for eight new lines in Arunachal Pradesh for a total length of about 625 Km. These are 1) Margherita to Deomali (31 kms), 2) Lekhapani- Kharsang (25 kms), 3) Itakhola to Seijosa (18 kms), 4) Doodooma to Wakro via Simulguri,Namsai, Chowkham (96 kms), 5) Dangri to Roing (60kms), 6) Naharkatia- Deomali (20 kms), 7) Lekhapani – Napnong-New khamlang-Deben (75 kms), 8) Tinsukia (Longpotia) (Assam) To Pasighat  Via Kanubari, Deomali, Lekhapani, Jairampur, Kharsang, Miao, Diyun, Tezu, Bhismaknagar, Roing, Dambuk (300 kms).