International
Manipur can serve as a link between the ASEAN countries and the North East and rest of India- Biren Singh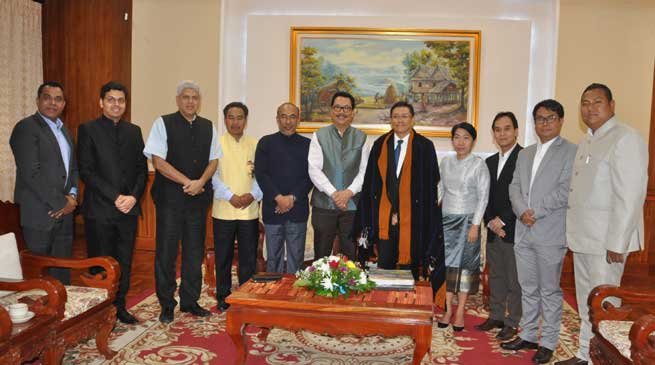 Vientiane
The delegation from the North East headed by Chief Minister of Manipur, N Biren Singh and Deputy Chief Minister of Arunachal Pradesh, Chowna Mein had a series of meeting with various ministers of the Lao People's Democratic Republic at Vientiane today.
The dignitaries meet Alounkeo, Minister of Prime Minister Office of Lao PDR, Medamme Khemanni Pholsena, Minister of Industry & Commerce, Lao PDR, Kikeo Chanthaboury, Vice Minister of Planning and Investment, Lao PDR and   Savankhone Razmountry, Vice Minister of Information, Culture & Tourism and a member of National Assembly and President of Lao Journalist's Association.
Chief Minister of Manipur, Biren Singh apprised the Ministers of Lao PDR about the impetus given by the Prime Minister of India, Narendra Modi to the ASEAN countries and North East India with respect to connectivity and economic development in the region. He informed that the expansion of road from Moreh in Manipur to Tamu in Myanmar which will go up to Vietnam passing through Myanmar, Thailand and Laos is under progress and the Govt of India has already given fund for the expansion of the road up to Tamu in Myanmar. Once this road is completed, the major connectivity will be achieved and there can be increase trade activities and people to people contact between the people of North East India and ASEAN countries, he opined.
CM Biren Singh  further stated that the Manipur being the closest state to the ASEAN countries can unlock the latent potential of the region and can serve as a link between the ASEAN countries and the North East and rest of India. He further called for cooperation from both sides and invited the Ministers and Cultural troupes from Lao PDR to participate in the Sanghai Festival of Manipur that is celebrated in the month of November every year as a part of cultural exchange programme.
He thanked the Laos people and the member of ASEAN-India Business Council, Lao PDR Chapter for their remarkable hospitality shown to the guests during their stay in Laos.