National
Maneka Sanjay Gandhi launched "Mahila e-Haat", an online marketing platform for women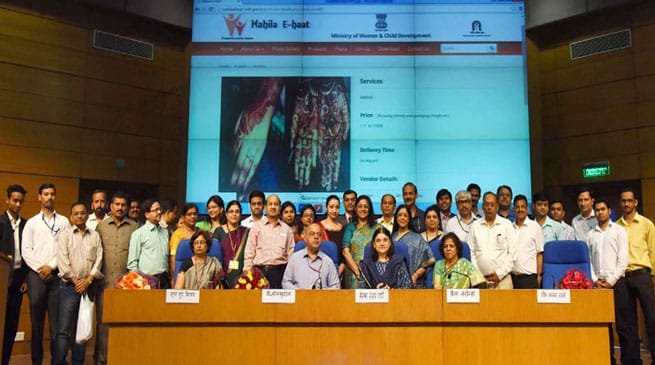 New Delhi
The Minister of Women and Child Development, Smt Maneka Sanjay Gandhi launched "Mahila e-Haat", an online marketing platform for women in New Delhi on Monday. Mahila e-Haat is a unique online platform where participants can display their products. It is an initiative for women across the country as a part of 'Digital India' and 'Stand Up India' initiatives of Prime Minister, Shri Narendra Modi.
Speaking on the occasion, Smt Maneka Gandhi said that this initiative can prove to be a game changer since it will provide access to  markets  to thousands of women who make products and are spread all over the country but have little access to markets. The initiative is unique since this is the first time that the government will help women to sell products online, the Minister added.
Mahila E-Haat is an initiative for meeting aspirations and need of women entrepreneurs which will leverage technology for showcasing products made/manufactured/sold by women entrepreneurs. They can even showcase those services being provided by them which reflect creative potential e.g. tailoring. This unique e-platform will strengthen the socio-economic empowerment of women as it will mobilize and provide better avenues to them. More than 10000 Self Help Groups (SHGs) and 1.25 Lakh women beneficiaries would be benefited from the day of launch of the site itself. Participation in e-Haat is open to all Indian women citizens more than 18 years of age and women SHGs desiring for marketing their legal products/services after indemnifying RMK from any or all acts of transaction.
The e-Haat is expected to result in paradigm shift enabling women to exercise control over their finances. The entire business of e-Haat can be handled through mobile phone. The product, along with photograph description, cost and mobile no./address of the participants will be displayed on the e-Haat enabling direct contact between sellers/service providers and buyers.
 The Mahila e-Haat portal can be accessed at   http://mahilaehaat-rmk.gov.in