Itanagar
Make Arunachal Pradesh an 'Aadarsh Pradesh'- Governor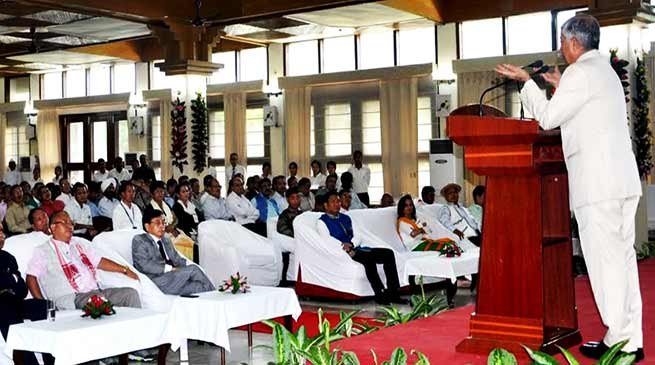 On the occasion of 72nd Independence day celebration at Raj Bhawan, the Governor appealed to the people of Arunachal Pradesh to contribute their might in the developmental efforts of the State Government and help Make Arunachal Pradesh an 'AADARSH PRADESH'. 
---
Itanagar
On the occasion of 72nd Independence Day, 15th August 2018, the Governor of Arunachal Pradesh Brig. (Dr.) B.D. Mishra (Retd.) and First Lady of the State, hosted 'At Home' for the cross section of the society at Raj Bhavan, Itanagar. Chief Minister Shri Pema Khandu, Advisors to Chief Minister, members of the State Legislative Assembly,  senior bureaucrats, achievers and awardees, Ex-Servicemen, NCC Cadets, Scouts and Guides, students from various schools, including Donyi Polo Mission School for Visually and Hearing Impaired, Chimpu and Gyan Mission, Jullang were present on the occasion.
Adding pride to the special occasion, the Governor in his interaction with the people, recalled his participation in the first Independence Day celebration back home, as student of Class V student, in his village school. He exhorted the people to resolve to attain the cherished dreams of our forebears of making India a peaceful, prosperous, developed and strong nation. He said that such a resolve will be a befitting tribute to those martyrs. Equally it will be a great boon to the future generation. It is of utmost national importance that we set our mind on living with social, administrative and financial honesty, integrity and accountability, he emphasized.
The Governor said that the need of the hour is to work for balanced growth of all segments of the society, especially the underprivileged, the differently abled and the forlorn. We should aim at ushering in social and economic empowerment of women and all-round care for children. As a nation let us strive to secure to all our fellow citizens, justice, equality, fraternity, good governance, protection of environment, compassion and dignity of individual, the Governor said.
The supreme sacrifice of Hav. Hangpan Dada, Ashoka Awardee of our State was remembered on the occasion. Special invitees and Gallantry awardees, Col. Ashok Arya, Sena Medal from Dogra Regiment and Lt. Col. Chirom Ibungo, Sena Medal from Garhwal Rifles shared their experiences in fighting for the territorial integrity of the nation.
To mark the special occasion, the Band from 11th Battalion of The Dogra Regiment played patriotic tunes adding passion of patriotism amongst the dignitaries and distinguished guests at the 'At Home' function.