North East
M D Khetan has been conferred Honorary Doctorate by the Desh Bhagat University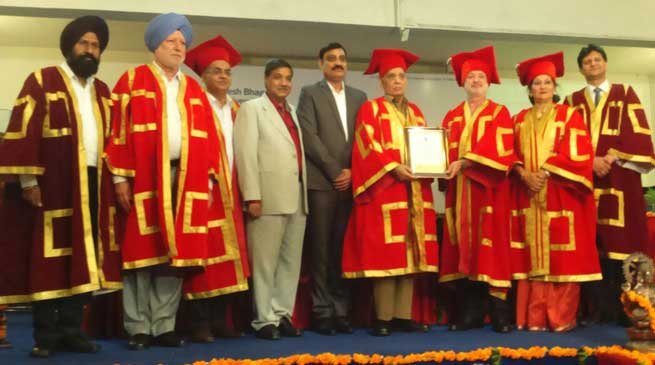 Jorhat
The Chancellor of Kaziranga University  M D Khetan has been conferred Honorary Doctorate by the Desh Bhagat University during their Convocation ceremony held on 16th September 2016 in the Desh Bhagat University Campus in Mandi Gobindgarh, District Fatehgarh Sahib, Punjab.
The Desh Bhagat University derives its spirit of foundation from freedom fighter Sr. Lal Singh Ji and is established with the mission of perusing excellence in higher education by providing the students a distinct and unique combination of academic, professional and personal development. It has the vision to immerge as the country's leading value based educational and professional centre, practicing innovation, patronizing research and shaping global entrepreneur and leaders.
M D  Khetan has been awarded the degree of Doctor of Philosophy (Honoris Causa) for his outstanding contribution in the field of Social Service in the Faculty of Life Sciences. M D Khetan is an entrepreneur, Businessman, a social worker who believes in the spirit "Determination is stronger than Destiny".
 M D Khetan is also the Chairman of the North Eastern Knowledge Foundation, the promoting trust of Kaziranga University. He has dedicatedly worked towards the betterment of the society and has and contributed immensely for the development of the region. His vision is to provide quality education to meet the demands of the 21st century and to develop the youth to responsible citizens.
 Dr. M. D Khetan has been bestowed with many awards and accolades by the Government of Assam and leading Institution and organization for his entrepreneurial contributions towards the development of the society.