Arunachal
Lt. Governor Najeeb Jung, Agreed to Allot Plots for Arunachal Guest House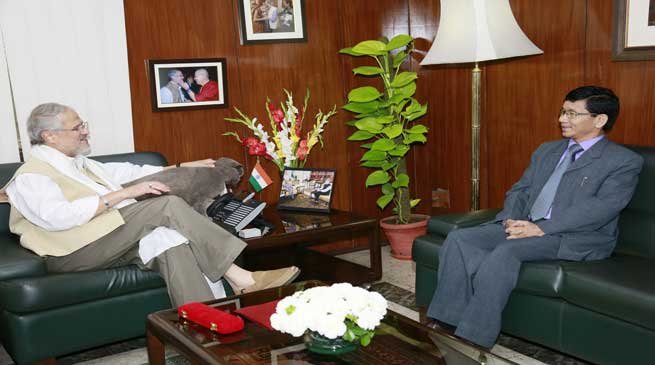 New Delhi
Lieutenant Governor of Delhi, Najeeb Jung agreed to allot two plots of land for construction of Arunachal Guest House following a request to this effect from Chief Minister Kalikho Pul.
The Chief Minister called on the Lieutenant Governor, who also heads the Delhi Development Authority (DDA) here at Raj Bhawan for assistance in deputing a nodal officer to help identify and allot two plots of land, each measuring 8000 sqmts at North and South Delhi for construction of guesthouse, which would be an extension to the Arunachal Bhawan.
The CM said the new building would benefit students from poor family background who are unable to afford decent accommodation in the national capital. Also it would benefit aspirants of civil services and other competitive examinations for their accommodation in New Delhi for better access to good coaching institutes.
 He mentioned that several aspirants from poor economical background had to abandoned their preparatory studies midway, as they could not afford cost of living in the national capital.
Further the Chief Minister said the guesthouse would be of help for patients coming to New Delhi for seeking advanced and specialized medical care.
 Also officials of the Arunachal government have to visit New Delhi regularly to attend development meetings and for follow up of government programmes. In absence of adequate accommodation in the national capital, several officials had to find accommodations in the hotels, said the Chief Minister.
 The CM told Lt. Governor that while there is an Arunachal Bhawan at Chanakyapuri for the visitors to halt, the available space is proving to be in sufficient to accommodate large numbers of visitors.
 The Chief Minister said upon allocation of land, the state government would immediate start the construction work for guesthouse. The new guesthouse will be equipped with proper reception and lodging facilities with Wi-Fi connectivity, canteen, cafeteria and 24-hours facilities of water and electricity.
 The Chief Minister also invited the Lt. Governor to Arunachal.