North East
Kokrajhar- SSB organised Computer Training Program Kokrajhar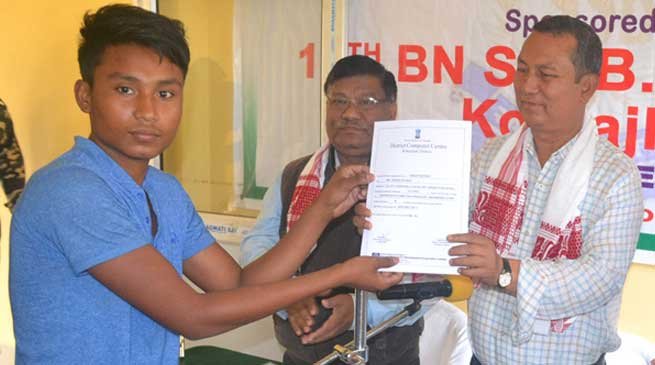 Kokrajhar
By Kanak Chandra Boro
The one month computer training program organized by 16th Bn SSB Ranighuli at District Computer Centre, Kokrajhar for the unemployed youths of border area under District- Chirang and Kokrajhar has been successfully completed today.
Total 20 youths of Border area who has participated in the course has received certificate from the department which has been handed over by the chief guest  Daneswar Goyary, EM of Sports, BTC. Further Goyary appreciated 16th Bn SSB for conducting such commendable job for the border youths and expressed that the said course will help them to increase the professional skill and will also benefit them in their education as well as to develop their career. Robin Chandra Mushahari, BTC Secretary of education, Kokrajhar has also graced the programme by his presence and boosting up the moral of the students.
16th Bn SSB Ranighuli has arranged all the expenses for the youths including, food, accommodation, transportation, and training. Further Sh. A.K.C. Singh has said that 16th BN SSB Ranighuli is always succeeding in its motto to win the heart and mind of common people in the bordering people. The unit is always dedicated for the benefits and development of the Border people and regularly conducting various community welfare programme such as , emergency ambulance service for border people, distribution of sports and cultural items, study tour to border youths, various vocational courses, MCA, VCA and Etc.