North East
Kokrajhar- NDFB-S rebel arrested along with arms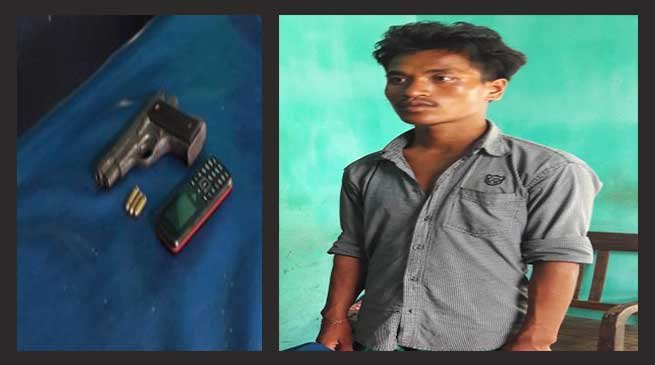 Kokrajhar
Security forces arrested  one  trained cadre of NDFB-S from Dholapara No. 9 under Patgaon police outpost in Kokrajhar district on Friday.
The security forces launched a operation after receiving the specific information about the presence of the NDFB-S rebel in that area,  and arrested one cadre.
The arrested cadre was identified as Derhasad Basumatary,( 22 years). One factory made pistol, one magazine, three rounds live ammunition of 7.65mm pistol, one mobile recovered from his possession.
Sources said the arrested cadre is a locally trained cadre and was an important member and close aids of Janimun Basumatary alias Galor, who was gunned down few days back. He was also actively involved in numerous cases of extortion, money collections as well as carrying out subversive activities.
Derhasad Basumatary arrested NDFB-S cadre said to the security forces that  "two months ago  joined NDFB-S, Janimun Basumatary alias Galor force fully took me to company him because that time he was alone in our area".
Further he said  that "I was in Bangalore working as security over there and this morning around 7am police and army arrested me from our village and also said that Galor was died few days back in encounter so I came and stay at home or village".