Arunachal
Khonsa- Wanglam Sawin visits Hospital and School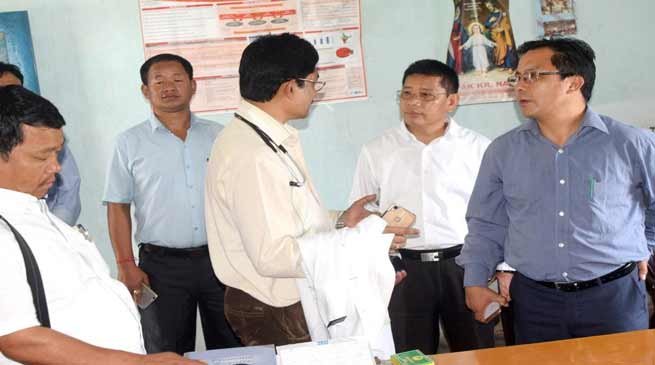 Khonsa 
The Khonsa East MLA cum Chairman A.P. Medicinal Plant Wanglam Sawin and Tirap Deputy Commissioner P.N. Thungon inspected General Hospital, Khonsa wherein they interacted with the officials and checked Attendance Register of Medical Staff. The blood bank unit which is at verge of completion was also inspected by them and directed PWD for necessary rectifications.
While addressing the trainees at Workshop on Intensified Mission Indradhanush, the MLA-Sawin suggested the trainees viz : ANMs, Anganwadi workers, ASHAs to be pro-active in discharging their duties at their respective place of posting. Further, Sawin urged DMO to ensure Medical Officers/Para Medical Workers/Nursing Staff are station at their respective place of posting to avoid complaints from CHCs/PHCs/Health Units etc.
While counselling with the trainees on Intensified Mission Indradhanush programme, Tirap DC P.N. Thungon, urged all the Medical Officers, ANMs, Anganwadi Workers and ASHAs categorically explained need to work with missionary zeal to address the problems/ health care as the lowest functionaries at the village level.
DMO Dr. N. Lowang appreciated local MLA cum Chairman A.P. Medicinal Plant for timely funding for procurement of medicines for the patients of Khonsa and for paying visiting Khonsa General Hospital from time to time which boosts the moral of the health department. She also praised Tirap DC P.N. Thungon for sharing his ideas/experiences in health sector.
Later on, MLA-Wanglam Sawin and Tirap DC P.N. Thungon paid surprised visit to Government Higher Secondary School, Khonsa wherein they visited Computer Class Room, Science Lab and all the class rooms wherein they interacted with the teachers and students. DC instructed the teachers to strictly monitor the daily attendance of the students and to assure that no student be allowed to appear in the examination who does not attain 75% of school attendance. He also urged the local teaching staff of the school to be more cautious and to motivate the students to focus on their studies and to avoid bad manners and intake of bad things like alcohol, tobacco etc.
Wanglam Sawin urged the students to concentrate on their studies and to avoid bad things and bad company as the students are the future of the country and their families who have given up everything for the sake of their studies have much higher expectations from them. He further assured the school authority to render every possible assistance in the improvement of school management.