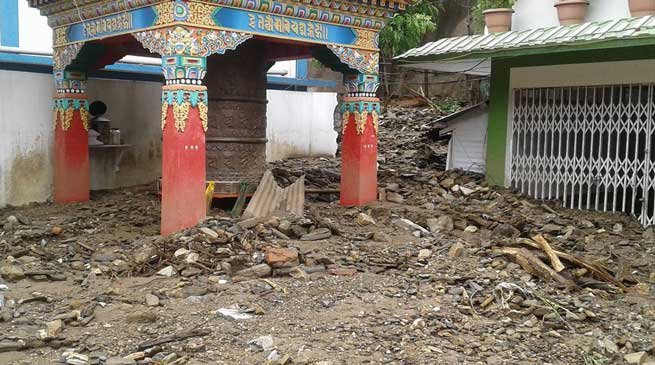 Itanagar
Concerned over reported incidences of flash flood in Dirang, heavy storm in Lekang and fire accident in Kerang, Chief Minister Pema Khandu has ordered for immediate release of working fund as interim relief to the affected areas till the final assessment report is submitted by the concern district administration.
Secretary Disaster Management Jokey Angu informed CM about the quantum of damage caused by natural disaster at different places. He said that one death at New Mohong village under Lekang circle has been reported while several dwelling houses in Lekang and Namsai circles were badly damaged by a heavy storm that hit late evening of Monday.
In another fateful incident, flash flood created havoc in Dirang administrative headquarter which left trails of devastation. There was however no human casualty reported but the magnitude of the damage caused by the nature's fury is being estimated to be huge. Place of occurrence of the flash flood is reported to be in the same area where a month ago cloud burst had taken place.
Recently, fire played a spoilt sport at Kerang village and devoured almost 30 dwelling houses.
Chief Minister ordered for release of working funds to the affected areas to carry out relief and restoration works. He further directed the district administration to expedite the process of final loss assessment. He also appealed general public to be cautious and stay in preparedness to avert any kind of casualties during such natural catastrophe.