Itanagar
Khandu has requested Mahila Morcha to spread party ideology among the masses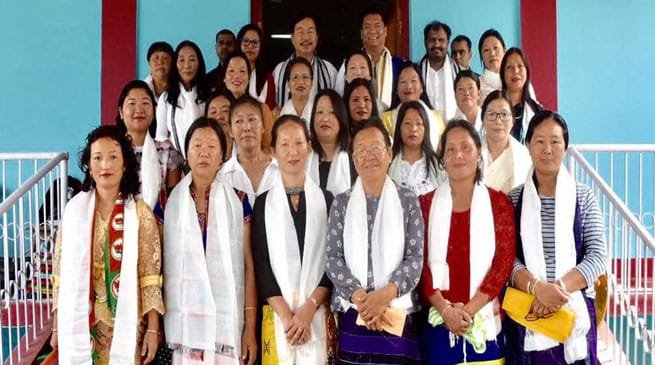 Itanagar
The Chief Minister of Arunachal Pradesh Pema Khandu requested Mahila Morcha to play active role in spreading party Ideology among the masses, when all  the presidents of District Mahila Morcha of BJP party led by state President of BJP Mahila morcha called on Chief Minister Pema Khandu today at his residence.
The Chief Minister lauded the Mahilas for being home runners in society having wider and deeper connection with the general mass.
Considering the influential role Mahilas have in the society, the Chief Minister said the party and the government should avail the effective services of mahila morcha.
He urged the Mahilas to create awareness amongst the public about welfare schemes of the government, particularly the entrepreneurship based Bunkar Yojana, Swalamban Yojana, skill development, sanitation program.
To spread the good works of the government, the Chief Minister said the members of the Mahila morcha in all district level should be made aware of flagship programme launched.
They should be made vital participatory members in carrying ahead the welfare schemes of government to beneficiaries at the grassroots level, said the Chief Minister.
The Mahila Morcha speaking to the Chief Minister raised issues on lack of basic services in the district like education, health and sanitation. They also requested that BJP legislators in their respective constituencies should involve Mahila Morcha in all party based programmes and state welfare programmes.
The Chief Minister assured all possible support to the Mahila Morchas.
State BJP Party President Tapir Gao and Organizing Secretary, Ramesh Kadaganchi were also present.