ADVERTISEMENT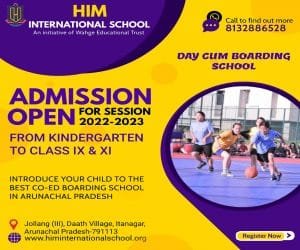 Itanagar
Chief Minister Pema Khandu today gave away cash incentives to 116 meritorious sports persons who have won laurels representing Arunachal Pradesh in their respective disciplines of sports and games in various tournaments and championships held during the last few years. A state government initiative, cash incentives are given to deserving sports persons on occasion of National Sports Day celebrated across the country on August 29 every year.
Prodigal weightlifter Jumjang Deru walked away with an incentive of Rs 16.5 lakhs for his exploits – the highest amongst all sportspersons awarded today. Last December, Deru had created a new national record in clean & jerk event in men's 62 kg category with a lift of 153kg to secure gold in the Senior National Weightlifting Championships. His uncle Khandu Deru accepted the incentive from the Chief Minister as Jimjang is in pursuit of another medal in Australia.
Congratulating the sportspersons, Khandu assured the government's commitment to the welfare of sportspersons and development of sports and games.
"In fact North East is a major contributor in the field of sports and games in the country. We have immense inborn talent in our youths. The only thing needed is proper guidance, best of the training and basic facilities," he pointed.
Khandu welcomed the suggestion put forward by BJP State President Tapir Gao of having at least one sports complex with all basic facilities in every assembly constituency of the state. He appealed his legislator colleagues to work in this direction so that talented sportspersons can be identified from far flung areas and offer them with basic training.
He informed that the central government headed by Prime Minister Narendra Modi has the intent to take the country forward in games and sports and therefore has taken up the 'Mission Olympic' under which the ambitious program 'Khelo India' is being implemented. He said, Union Minister for Youth Affairs and Sports Vijay Goel has personally assured to offer every possible help to Arunachal Pradesh in developing its sports infrastructure.
"The department of Sports and Youth Affairs has come up with several good proposals and I believe with Center's help all these will be implemented soon," he observed.
The Chief Minister however expressed regret that the State Sports Policy, which was tabled in 2012, is yet to be finalized and released. When he called upon the department to tighten up its belts, Sports & Youth Affairs Secretary Dani Salu assured that the State Sports Policy as well as the Policy for Youth Affairs will be finalized and submitted to the government by September end.
Khandu also admitted the fact that meritorious sportspersons who are absorbed in government jobs through the sports quota get completely cut off from sports, which is a loss for the state. He assured the issue will be brought up in the Cabinet and find out a way to facilitate sportspersons in government job to continue playing for the state and the country.
He urged the budding sportspersons to avail all benefits in offer from the government by excelling in their respective fields. He informed that the sports policy, which will be launched soon, also offers Rs 3 crore for a Gold, Rs 2 crore for a Silver and Rs 1 crore for Bronze in the Olympics.
"So aim for the highest, aim for the Olympics as even for participation in Olympics the Government offers Rs 25 lakhs," urged Khandu.
Deputy Chief Minister Chowna Mein hailed the cash incentive initiative by the department and called for its continuation. He said that the initiative was started with good intentions but due to some reasons it 'got derailed' for a couple of years and assured the state government will support it for all the years to come.
Mein also stressed on the need to create proper infrastructure for development of sports and churn out exceptional sporting talents. He suggested that before creating manpower like district sports officers in the districts, infrastructure be created first.
He asserted that games and sports be given more emphasis in the eastern districts of the state where youths are succumbing to drug addiction.
"Only through games and sports we can bring our wayward youths into the mainstream," Mein said.
Meanwhile, Arunachal Olympic Association (AOA) General Secretary Abraham K Techi submitted a memorandum to the state government on behalf of the sporting fraternity. The memorandum sought assistance of the state government to resolve issue like construction of Olympic Bhavan, Grant-in-Aid, trained coaches, multipurpose indoor stadiums, appointment of DSO/ADSO, etc.
Earlier, the Chief Minister along with Deputy Chief Minister and others paid tributes to the portrait of Late Maj Dhyan Chand on whose birth anniversary the National Sports Day is celebrated.
Present during the function were Cabinet Ministers Dr Mohash Chai, Kamlung Mossang and Bamang Felix, Parliamentary Secretaries Nyamar Karbak, Tapuk Taku, Zignu Namchoom, Kento Rina and Tsering Tashi, BJP state President Tapir Gao, Arunachal Sports Authority Chairman Bamang Tago, Sports & Youth Affairs Secretary Dani Salu and Special Invitees Dr Duyu Meena Mudang, Mrs India World and Licha Thossum, Femina Miss India finalist.
The awardees were from 12 sports disciplines like archery, badminton, boxing, karate, judo, mountaineering, shooting, taekwondo, table tennis, tent pegging, weightlifting and wushu.