Arunachal
Khandu Dedicates new ADC Building to the people of Kalaktang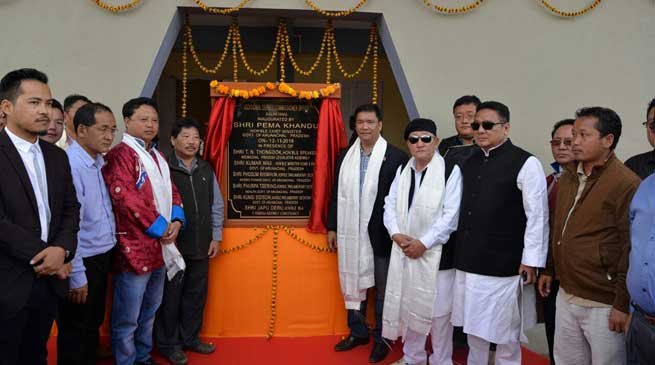 Kalaktang
Chief Minister Pema Khandu dedicated a well built new ADC building and officers quarter to the people of Kalaktang here this morning in presence of State Assembly Speaker T N Thongdok, Parliamentary Secretary Hydro Power Phosum Khimhun, Parliamentary Secretary PHED Kumsi Sidisow and Bomdila MLA Japu Deru.
While appreciating the executive agency for keeping up the standard design and norms and completing the project with limited funds, Khandu asked PWD to adopt similar approach towards all other projects. He credited Speaker Thongdok for closely monitoring construction of the asset and giving it the final shape.
"This ADC office building is best of its kind in the entire state," Khandu observed while appealing the general public to maintain sanctity of the civil administration.
During a short interaction with the officers and public leaders in the newly inaugurated ADC office building, Khandu exhorted them to maintain synergy and team spirit. He specially called upon the officers to be public friendly while discharging their duties.
"We all are public servants and we are duty bound to serve the public," he asserted.
On similar lines, he appealed public leaders to cooperate with the civil administration by maintaining peace and cooperating with the official for smooth running of the administration and all government projects.
Citing that peace is prerequisite for any kind of development, Khandu maintained that only peace can bring in development in the area. He called upon all to rise above petty politics and work as a team for welfare of Kalaktang area.
The CM directed ADC to immediately start shifting and functioning of the office from the new block.
The Chief Minister later left for Ziro in Lower Subansiri district.