Arunachal
Khandu Attends Annual Event of Hindu College in Delhi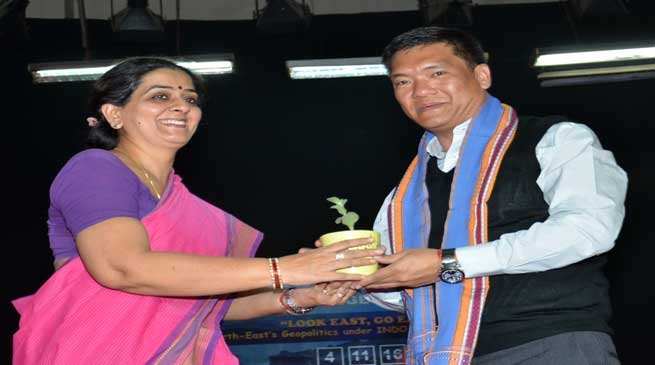 New Delhi
"Arunachal Pradesh believes in cementing the centuries old cultural ties with South Asian Countries and therefore a number of initiatives have been taken by our state in this direction" Chief Minister Pema Khandu assertively said while speaking at the annual event of the Hindu College organized by the NE Cell here today.
This year's theme for the event was "Act East Policy: North East region as the corridor of cultural, political and economic exchange with South East Asia under a national paradigm". It may be mentioned here that Khandu is an alumni of Hindu College.
He referred to successful conduct of an Indo-Bhutan friendship car rally, which was recently organized besides regular celebration of Pangsau Pass festival, a calendar event held at Nampong – Indo-Myanmar border to facilitate border trade, while justifying his stand.
He appreciated the effort put in by Prime Minister Narendra Modi by Transforming the slogan of Look East Policy to Act East Policy to forge strategic partnership and security cooperation of India and the neighboring countries of the South East. The focus of this Policy is to boost India's stand as a regional power by forming diplomatic and cooperative relations with ASEAN. The underlying principle was also to make the northeast region the hub of activities- economic, social and cultural and act as the gateway to Southeast Asia and beyond.
"With the states initiating their bit to cement cultural ties, the Govt of India can translate into economic and strategic partnership. I am sanguine that our Prime Minister is definitely working on it" Khandu added.
CM also recalled his days at Hindu College and extended his gratitude to the institution for making him what he is today.
He further appreciated the North East Cell of Hindu College that took shape in 2011 with the shared idea and motive to provide a platform to showcase the unique cultural diversity of the region and promote cultural exchange and integration with rest of the country while specifically mentioning the team of NE Cell of Hindu College led by President Riddi Mahanta and mentored by Mrs Ananya Barua Chaudhary, Mrs Anju Srivastav (Principal) and Santacrus Singh (Faculty Advisor).