Arunachal
Joint Inspection Team of Namsai and Changlang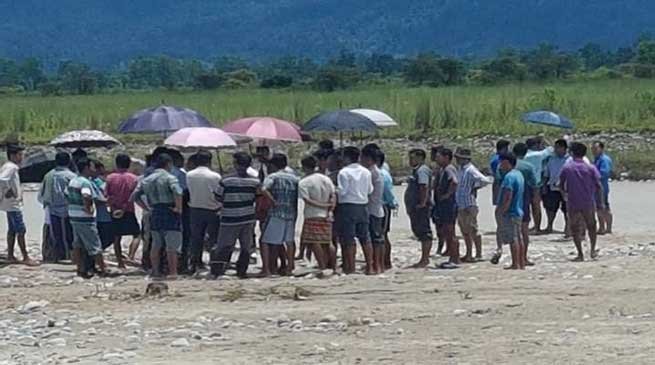 Namsai
The joint inspection team of Namsai and Changlang district today inspected the flood affected areas and surveyed the entire bank of Noa Dihing River from Diyun to Innao. The team was led by ZPC Namsai Chow Kyaseng Mounglang and Circle G.B Diyun Lajala Singpho who surveyed the areas along with PRIs members and public leaders from both the districts.
The team will pursue the government with proposals for funds to carry out immediate measures to control the situation. Meanwhile, they will also apprise the Deputy Chief Minister for deputing the concerned department for thier survey & prepare proposals.
The recent flood in entire Eastern Arunachal has left a trail of devastation and this could be seen as flood water has started to recede in many places now. The Deputy Chief Minister Chowna Mein during his recent visit to flood-affected areas had directed the district administration to form the joint inspection team from Namsai and Changlang to conduct a thorough survey of the areas.
Different kinds of aid and support for flood affected people has started to pour-in with the members of All Namsai Area Youth Association led by its President Chow Tichanam Singkai and General Secretary Chow Rajana Manpoong today distributed food items, mineral water, ORS and clothes to flood-affected people at Lekang. The items were contributed by Namsai Bazaar Secretary Chow Piliksha Longkan, Wonney Cloths Store and Akash Cloths Store. Similarly, the Namsai Women Welfare Society has also provided relief materials to the flood victims at Jenglai Relief Camp, Piyong circle. Meanwhile, the ANAYA team is also keeping its active fight against drug alive and conducting raids at various places on time to time. The members has urged and requested the district administration to cooperate and support the association in fight against the drug menace plaguing the society in Namsai district.
In an effort to bring smile to grief stricken flood victims of Namsai, Lilly R Jamoh Assistant professor at Dera Natung Govt College and Nobin Jamoh also contributed rupees twenty thousand and five hundred today.
"Director of NIT Yupia, C.T.Bhuniaresponded to my appeal and donated the amount when I went there today for my dustbin Installation programme", said Lilly. The amount was deposited in account of All Namsai District Students Union, she added.
Lilly R Jamoh is well known face in Itanagar who has been distributing homemade dustbins in various institutions and important places in Capital region in an effort to create awareness on cleanliness among the masses.