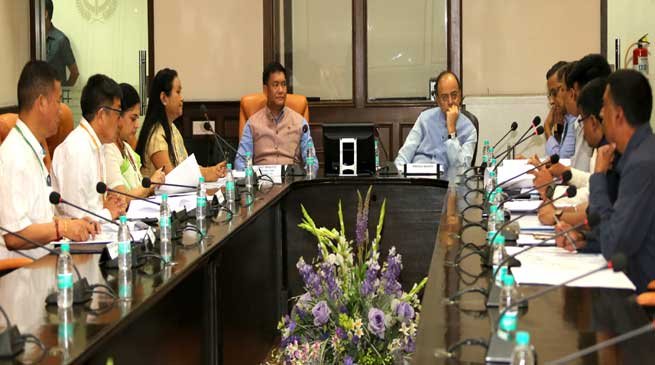 New Delhi
The union Defence minister Arun Jaitley, Chief minister Arunachal Pradesh Pema khandu and Members of the Executive Council of National Institute of Mountaineering & Allied Sports (NIMAS) , in the second meeting of the council held on Tuesday at New Delhi, approved a joint Indo-Bhutan rafting expedition, a Mt Everest expedition and Mt Nyagi Khangsang (yet to be scaled) in the coming years as proposed by the institute.
The Union Defence Minister Arun Jaitley chaired the meeting, which was also attended by the Defence Secretary, Joint Secretary (Army), Addl FA & JS (Defence), state's Chief Secretary, Resident Commissioner, Secretary to CM and Director NIMAS.
Established in 2013 at picturesque Dirang in West Kameng district, NIMAS offers training courses on adventure sports that span across land, air and water – a first of its kind that allows civilians to experience challenges across a variety of outdoor surfaces as well as pursue a career in adventure sports. The first executive council meeting of the institute was held on July 17, 2013. As the institute is under the Defence Ministry, the Union Defence Minister is the President of the Council while the state Chief Minister is its Vice President.
During the meeting the minutes and action taken on the first Executive Council were discussed and the future requirements of the institute and new courses to be introduced were explained to the members. It was decided that high altitude scuba diving would be introduced in the coming years besides the already existing courses by the institute like advanced mountaineering, para motor, skiing, trekking guide, water rafting, etc.
The Defence Minister principally accepted the proposal for recruitment of additional staff for the institute that mostly includes instructors for mountaineering, aqua and air adventure sports.
To the request for additional land for courses like rafting, mountaineering, skiing and scuba to establish functional infrastructure, the Chief Minister assured that the state government will allot the lands identified by the institute.
On invitation of the Chief Minister, the Defence Minister assured to visit the institute, which is yet to be formally inaugurated, on a suitable date.