National
J&K students ask for IAS and IPS coaching centres in state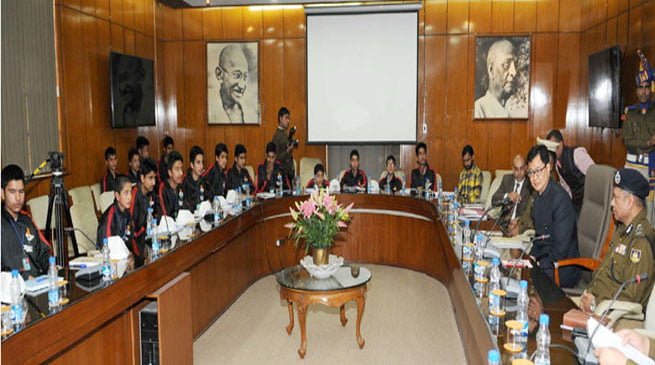 New Delhi
The teachers and students of Jammu and Kashmir  have placed a demand for opening coaching centres for IAS and IPS in front of Minister of state for home Kiran Rijiju. The students and teachers raised their demand during a function where Minister Kiran Rijiju was also present. The minister assured them him that he will look into the matter.
The Minister of State for Home Affairs Shri Kiren Rijiju met the children from Jammu and Kashmir here today. The group of various school students, comprising 25 students of class 8 to 10, are mainly from of remote area of Kupwara District. The students along with 2 teachers flagged off from Srinagar on 8th February, 2016. As part of the programme, the children were taken to Bengaluru and Mysore in Karnataka State. The tour of students is being organized by the Central Reserve Police Force (CRPF). During the meet, the children shared their experience of visit to different historical places.
While interacting with the children, Shri Kiren Rijiju said that he is happy to meet the children of Jammu and Kashmir. Shri Kiren Rijiju appreciated the efforts of CRPF in organising special campaign for taking Jammu and Kashmir children to other parts of India. He thanked CRPF for not only securing the country but also involving themselves in the social service.
Shri Kiren Rijiju said that India is one of the beautiful countries in the world, with different cultures which are worth seeing and this tour will help the children to understand the diversity and beauty of India. The children should share their experience with their friends and families when they go back home, he added. In his message to children, the MoS told them to study well and make India proud.
The teachers, accompanying the children, requested the MoS for setting up IAS and IPS coaching centres in Jammu & Kashmir and Shri Kiren Rijiju assured them to consider their request.