North East
J P Nadda lays foundation stone for new Super Specialty Block at GMC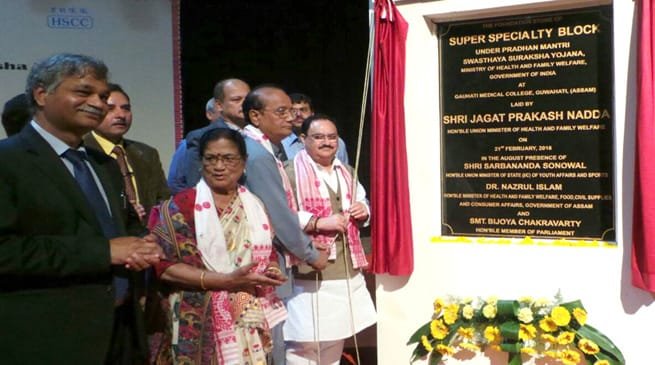 Guwahati

The Government is focused on strengthening the primary healthcare system while at the same time providing adequate facilities to secondary and tertiary healthcare in order to reduce the out of pocket burden on our citizens. This was stated by Shri J P Nadda, Union Minister of Health & Family Welfare on the foundation stone laying ceremony of the Super Specialty Block at Guwahati Medical College ( GMC ), today. Dr. Nazrul Islam, Health and Family Welfare Minister, Assam and Smt. Bijoya Chakravarty, MP were also present at the function. 
Addressing the gathering, the Union Health Minister stated that the Government under the dynamic leadership of Hon'ble Prime Minister Shri Narendra Modi ji has embarked on an ambitious plan to expand tertiary care in a big way in our country. Noting that the State of Assam has shown the progress at all fronts, the Health Minister stated that the upgradation project of Guwahati Medical College Guwahati, Super Specialty Department of Paediatrics surgery, Haematology, Gastroenterology, Gastrointestinal (GI) surgery, Endocrinology and Burns & Plastic surgery will get created in the existing Medical College. This will add 190 beds, 60 ICU beds, 6 OTs to the institute at an approved cost of ₹ 150 crores. Foundation stone of a similar project has also been laid at Assam Medical College, Dibrugarh on 12th February 2016. "Tertiary care facilities will thus get a boost with all these projects coming up," said Shri Nadda.
Shri Nadda also said that a new AIIMS has been announced for Assam by the Government and very soon the work on the project will start. The Government has also decided to upgrade District Hospitals at Nagaon, North Lakhimpur and Dubri to the status of a Medical College. ₹ 189 crore each will be sanctioned for these colleges. As a first installment, ₹ 22 crore have been released to the state government. Moreover, since May 2014, more than ₹ 1,567 crore has been released to Assam state under National Health Mission (NHM).
The Union Health Minister stated that the Government has already started the process to establish 10 new AIIMS in addition to 6 already established in our previous term. Once fully functional, more than 16,300 additional bed strength would be available in the 17 AIIMS (960 beds in each Institution), he informed. The Minister further added that in addition to this super specialty blocks are being set up in 70 medical colleges and 58 district hospitals are being upgraded to Medical Colleges. 20 Cancer Institutes and 50 Tertiary Cancer Care Centres are being set up. National Cancer Institute, Jhajjar (with bed capacity of 710) and 2nd campus of Chittaranjan National Cancer Institute, Kolkata are also being established.