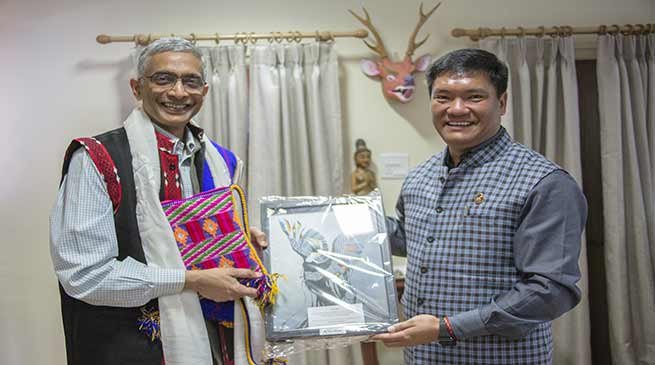 Itanagar
Parameswaran Iyer Secretary, Ministry of Drinking Water and Sanitation, Govt of India, congratulated for successful ODF mission in Arunachal Pradesh, during a meeting with Chief Minister Pema Khandu on Friday. Iyer discussed issues related to sanitation, particularly on the Open Defecation Free (ODF) mission launched by Government of India and drinking water supply.
He suggested that as Arunachal Pradesh has kept December 2017 as the target to achieve the ODF status, it needs to simultaneously start the verification process in the already ODF declared villages.
Prime Minister Narendra Modi had launched the Swachh Bharat Mission on 2nd October, 2014 that aims to achieve a Swachh Bharat by 2019, as a fitting tribute to Mahatma Gandhi on his 150th birth anniversary. However, Arunachal Pradesh Government had taken upon itself to attain the target by December 2017 by achieving cent percent ODF status for all districts.
Iyer appreciated the efforts put in by the state Department of Public Health Engineering & Water Supply (PHE&WS), the nodal agency for implementing the Swachh Bharat Mission in the state, to achieve the ambitious target. He lauded the solid waste management system used by the department terming it a comprehensive model and said it lived up to the objective of Swachh Bharat Mission, which is not only about building toilets but also keeping villages clean.
While taking the status of drinking water supply in the state, the Secretary assured funds were not a constraint as special funds have been earmarked for the North East, which cannot be utilized anywhere else.
He requested the Chief Minister to pre-finance projects under the centrally sponsored National Rural Drinking Water Programme (NRDWP), which will be immediately reimbursed by the ministry after successful completion of the projects.
Khandu expressed gratitude to the Union Secretary, who was accompanied by Dr Sonali Ghosh, Director, SBM-G, Yugal Joshi, Director, IEC and two Senior Consultants, for their visit to the state and valuable suggestions. He assured that the state government will take advantage of the centrally sponsored schemes and projects for the benefit of the rural people.
Khandu directed the PHE&WS department to work in close coordination with the ministry officials for the success of the Swachh Bharat Mission.
Also present during the call-on were Chief Secretary Satya Gopal, PHE&WS Commissioner H K Shalla and Chief Engineer Toko Jyoti.