Itanagar
Itanagar- Taram reviews security scenario of capital complex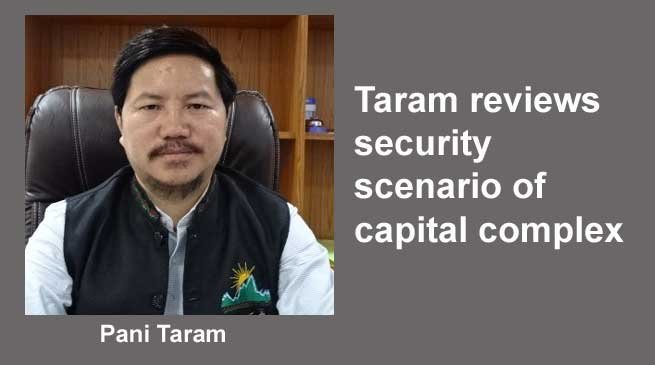 Itanagar
Parliamentary Secretary (Home) Pani Taram today review security scenario of capital complex.
A meeting to this affect was held at the office of the Parliamentary Secretary (Home) wherein Director General of Police Sandip Goel, IGP (Low & Order) Nobin Payeng and others. A through discussion was held in view of the latest incident of attack on Director of Audit & Pension at Naharlagun and recover of arm and hand grenade from the scene and other law and order issue of state.
After meeting while talking to this daily Pani Taram said that such incident is very unfortunate   and state government will not tolerate such incident and the miscreants involved. The state police is well equipped to tackle such situation for the safe and security of citizens of the state.
The miscreant involved will be apprehended soon and police forces have been deployed at various label and officers are in action. Law is taking its own course of action Taram added
All Check Post and  Nakas including entry and exit points in capital complex have been sealed and intensive checking have increased. All other check post have been alerted and the security personnel are doing their job and have been directed to carry out their duty with alertness.
The checking at all Nakas are directed to carry out checking even during day time apart of normal checking.
He directed the DGP to ensure all entry and exit point like Banderdewa, Hollongi, Gumto, Midpu and Railway Station to maintain strict vigil on any suspicious movement. Theses check gates are also being strengthened which would encourage the morale boast and attain re-enforcement if necessary during emergency Taram added.
Taram further appealed all the citizens of capital complex in particular and state as whole to cooperate the law enforcement agency in maintaining law and order.