Itanagar
Itanagar: Stray animals will rule the capital road soon-commuters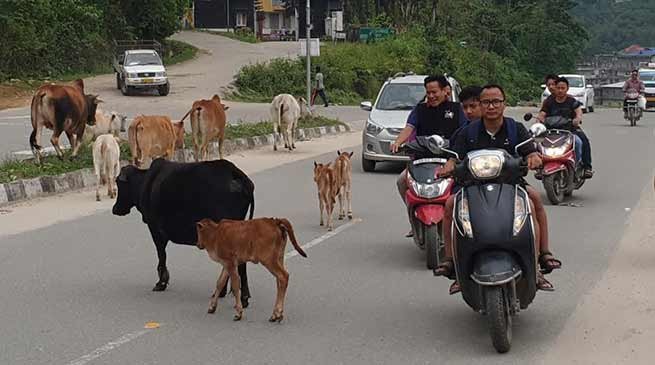 The roads of twin capital city will soon ruled by the stray animals-said local commuters and denizens of twin capital city.
---
Itanagar
By Manoj Singh 
Even after issue of several notice and advisory by the capital district administration to keep the pet animals and other domestic animals in proper captive but it seems that no one bother and let them allow these animals like cow, cat, dog, pig to move around the highway and create lots of untold problems to the commuters.
One senior citizen driving his car near PHQ on NH-415 said that, it is high time if one do not bother for other then everyone will be suffering a time will come.
One lady driving two wheeler near Papu Nallah while question the local administration, police and veterinary department that they only do the eyewash by killing few animals when the magistrate issue order and again the same condition continue.
" I have faced an accident with a cow in evening as the cow was being chased by a dog on the road and the cow hit me and i was hospitalised"  said that lady.
One educated youth said let us wait the wisdom prevail in all and think for other such problem because the such stray animals are very dangerous as it is one of the important cause of accident on road.