Itanagar
Itanagar: Protest march by APSSB AGGRIEVE Candidates
APSSB AGGRIEVE Candidates said that we have been moving from pillar to post but there is no solution.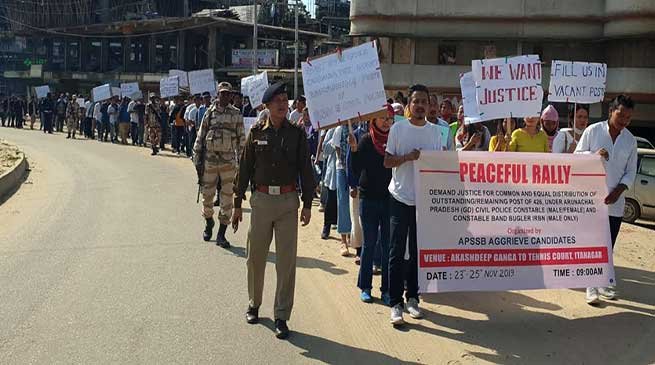 Itanagar
The aggrieved member/candidates  of APP (GD) civil police (male & female) & constable band bugler (IRBn) Male who give their written interview and viva voice test today staged protest march and dharma demanding filling of 426 remaining vacant post.
The aggrieved candidates allege that even after giving of written interview and viva test through APSSB,  their names has not been reflected in the panel list, despite hundreds of post still lying vacant without filling and hundreds of candidates who are waiting for it eagerly.
The aggrieved members committee President Pura Tajang and General Secretary Mibom Perme while briefing the media said that we have been moving from pillar to post but there is no solution.
Tajang said that Injustice have been done to the aggrieved candidates. He said that the interview has held during the month of February 2019. Now there are hundreds of vacant post lying and we are still waiting that the they may do something for the welfare of the unemployed youths of state and no suitable reply is being given by the government.
He appeal the state government led by Home Minister Bamang Felix to consider their voice. We will continue dharna on for two days and later we may carry forward our democratic movement. He added.
Watch Video
Perme while said that we have been waiting for a suitable reply from government. There is no option as we have applied for the government job and have also appeared the written as well as viva voice test, but inspite of recruiting us hundreds of post are being kept vacant.
He appeal the state government for immediate intervention for a resolution. He said that we have on several occasion have approached various authority but there is no solution and we have no option but to protest on the road and dharna heer at IG park. He added.