Itanagar
Itanagar:  Poor condition of govt school in Romi colony need quick attention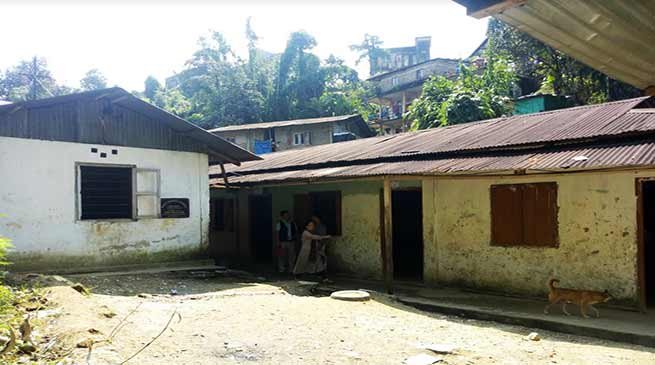 Itanagar
By Manoj Singh 
The Government Primary School (GPS) situated at  Romi colony near Rajbhawan in Itanagar is lacking of proper road connectivity and bad hygiene environment, displaying the signs of the negligence of state government and Education department.
The school established in 2006, just three kilometres away from the national highway. However, steep stairs leading to school is in pitiful conditions. Students and teachers are facing great difficulties  during  teaching as well as getting education.
The situation of the school have been overlook despite repeated representations by school managing committee (SMC) to the Education minister, Capital Deputy Commissioner, Education secretary, but they give  only assurance, said SMC, Chairman Patey Tayum.
Patey includes that as per RTE norms, the department should take care of the school but the norms is totally violated.
The main demand of the SMC and teachers are Construction of G3+ building and Link road of 1 km from P-sector to government primary school Romi colony. construction of RCC protection wall, compound wall around 800 metres length and 5 metres height. As school also doesn't have a boundary wall and no separate toilets for teachers and students.
Tayum adds that school teachers, staffs and the students used the stairs to reach the school which is situated in the midst of local dweller and forest Barack beneath a hill like structure.
The headmaster of the school also highlighting that school even lack of  classrooms and a playground. There is a small area for assembly which fits the existing 89 students and eight female teaching.
Due to limited numbers of classrooms,  desks & benches, the school has made a separate partition for class 4 and 5. With 10 students sharing one spot which causes a lot of disturbances.
It is also reported that a lady teacher was being fractured when she failed down from the stairs while coming for school.
One of the teachers also shared that most of the basic accessories like kitchen items, school desk and mats are being donated by the teachers.
The school doesn't have a storeroom to keep utensils for the midday meal, so temporary they have to keep the utensils in the staff room above the almirah, which looks too bad.
The headmaster also informed, Especially in monsoon season, the school is closed unofficially many a times as the school building is in a dilapidated condition and there is a fear of the collapse of the building and also earthquake due to incessant rain.