Itanagar
Itanagar-Hollongi highway murder case solved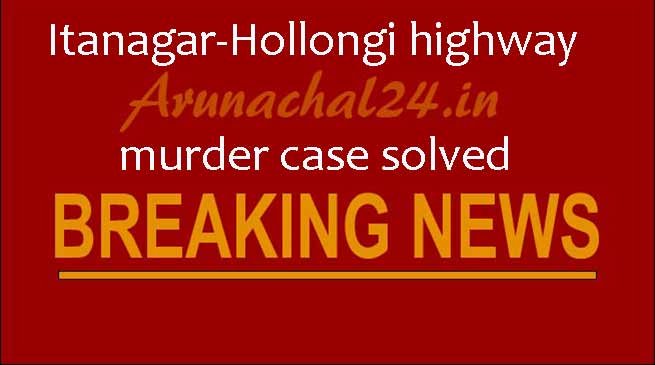 Itanagar
The recent recovery of dead body which was found in jungle between Itanagar-Hollongi four lane road on 2nd September  is solved said SP Papum Pare Tume Amo.
In a press release Amo said that on 02/09/17 a case was registered vide BJN PS C/NO 13/17 U/S 302/201 IPC on receipt of FIR from 88 years Head Gaon Burha (HGB) Nabam Niki of Hollongi village of sighting one unknown decomposed dead body of a male with both hands tied behind and thrown in a pit in a nearby jungle about 200 metres away from Itanagar-Hollongi highway.
SP Yupia constituted a team under his supervision with Dy SP Yupia Dr. Neelam Nega, OC PS Doimukh Inspector B.Tangjang, (IO) OC PS Balijan SI B.Krong, ASI N.Rama, ASI Nabam Tate, civil police and IRBn personnels.
The party immediately started investigating into the apparent murder case. As the body was in decomposed state and identity could not be established, messages were flashed. During Post Mortem examination of the deceased, a tattoo mark "Raling" was noticed engraved on the deceased left leg calf muscle and another on left hand which was not so visible. As the name Raling is generally used by people of Seppa as per  knowledge gathered,  the  experience and crime scene suggested some murder for revenge or deep hatred, information was at once shared with Seppa Police.
On several efforts, the deceased's identity was established as Raling Sangdo, brother of accused Taling Sangdo who is now under judicial custody in c/w Seppa PS Case/No- 91/16 U/S 302/201 IPC.
The team identified the family and relatives of the complainants of Seppa PS C/No-91/16 and carried out raids simultaneously at Karsingsa and Itanagar. The party brought some suspects and thoroughly interrogated them. From interrogation, the team zeroed down on three suspected murderers who are cousins/brothers aged 18 to 24 and from East Kameng District. Their details including active mobile numbers, possible hideouts, call detail report (CDR) were collected. Based on the analysis of the information collected against the suspected perpetrator, raids were conducted at Seppa and other locations continuously.
Ultimately on 25/09/2017 night, the three suspects have been nabbed from Naharlagun which include Kor Tawe, aged around 24 years of Tawe village of East Kameng district and two others. They were produced before the Yupia court today and sent to 7 days police remand for interrogation and further investigation.
SP further said that Kor Tawe was also the complainant of the Seppa Police Station case no-91/16 u/s-302/34 IPC registered against Taling Sangdo, younger brother of the deceased Raling Sangdo