Festival
Itanagar- Gorkhas celebrates 'Ramailo Tihar' festival
ADVERTISEMENT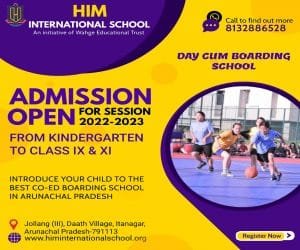 Itanagar 
The 'Ramailo Tihar' festival of Gorkha community being organised in state as second edition today at the Dree ground with the presence of thousand of people of Gorkha community took part.
Addressing the function as chief guest leader of Opposition and Palin MLA Takam Pario in his address said that Gorkha community service toward nation development cannot be forgotten. He remember the dedication, labour, support and strength of Gorkha Regiment in nation security. Organising of such event unite the community at a platform.
Referring the cemetery of Gorkha in the border area of state and other parts of country and appeal the community to remain as a partner for development of state and nation. He appeal the community to maintain the traditional and cultural value of Gorkha community.
Thanking Home Minister Kumar Waii for providing land for construction of Mandir for the community and extended his support for the cause of the unity and integrity of all community in state and prevailing of communal harmony and brotherhood.
Guest of Honour Bordumsa-Deyum MLA Nikh Kamin lauded the role of Gorkha community in the development process of state. elaborating Gorkhas as dedicated and laborious and appreciated the work culture and dignity of labour. Stating several cleanness drive by them as 'swachh hi jivan hai'.
Expressing the love as strongest weapon which strengthened the tradition and culture and appeal to uphold it for preservation or culture and tradition with love and affection among all community and tribes.
Chief Patron Borum ZPM Techi Tolu  endorse the demand for construction of Mandir for Gorkha community and appeal the gorkha people to support government in all development process so that everyone can stay in peace with communal harmony and brotherhood.    ,
Ramailo Tihar-2017 Organising Vice Chairman Chanbir Sonar, Organising Secretary Ramesh Chetry, Capital Unit President Raju Chetry
The colourful cultural night which thrilled by the famous Indian Idol Season-3 Prasant Tamang and his team and severala cultural team from various districts, the function was attended by huge gathering of Gorkha community from different parts of state and nearby Assam.