Itanagar
Itanagar: Fire razes shop, house in RWD colony D-Sector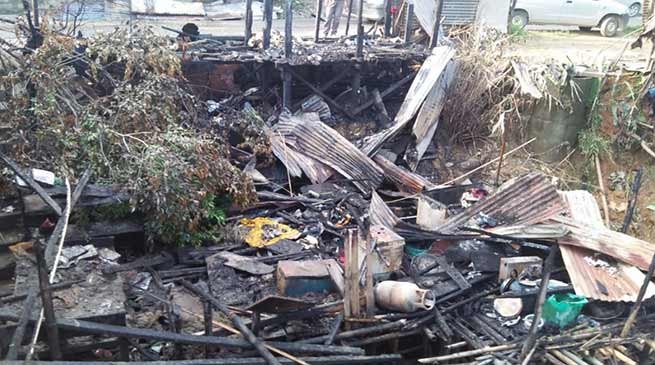 Itanagar
In a unfortunate fire accident one shop and a house were razed by devastating fire at RWD colony D-Sector Itanagar on 12 July last night.
According to the eye witnesses massive fire was broke out from the adjacent shop owing to electric short – circuits around at 11:20 pm mid night which quickly engulfed the adjoining house.
The situation could have been even worse if the fire brigade would not response quickly to the information about the incident. Though the shop and house could not safe at night but fire brigade prevented fire in the colony from spreading further.
Kotin Diru, house owner informed that he could not recover anything from the house due to sudden devastating fire. However, along with family members they manage to escape bare foot and naked from severe casualties.
Speaking on the movable and immovable property that massive fire burn down into ashes, he said around Rs. 18, 70, 649 have been destroyed including his daughter's entire certificates such as Class X, Tousism and Management Diploma certificate and Tourism and Management degree certificate.
On the other hand, the person who was running the shop, Dobam Mangha said that around Rs. 1, 29, 500 shop's items have been turned into ashes in the unfortunate incident.
Meantime, with the contribution from local MLA of Mechuka sub division PD Sona, Joint director UD T Darang, Director Industry R Takuk, relatives, well wishers have constructed temporary house for Diru's family.
Though the local dwellers of aforesaid colony put their possible effort to doze the fire but could not safe the house due to continue burst of Liquid Petroleum Gas (LPC) cylinder, said the eye witness Anthony Yuto.