Itanagar
Itanagar:  AVP to celebrate silver jubilee from 12 to 14th Jan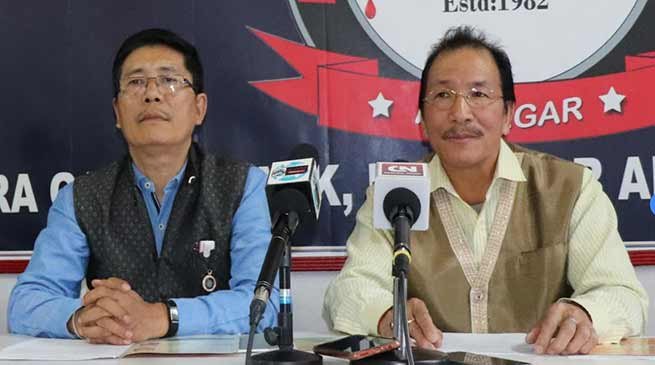 Arunachal Vikas Parishad  (AVP) to celebrate silver jubilee to focus vision documents for next 25 years.
---
Itanagar
The Arunachal Vikas Parishad a socio cultural organization is celebrating three days silver jubilee at Himalayan University , Jully  Itanagar from 12 to 14th  January next wherein the vision documents for next 25 years will be discussed and taken into priority list of the organisation.
Addressing the reporters at Arunachal press Club here today State AVP president Techi Gubin said that since its inception in 1993 in Arunachal Pradesh , AVP is rendering selfless service to the people of Arunachal Pradesh through various service mission projects and programmes to the people of State especially to youths in various sectors like Socio Cultural development, Promotion of Elementary education in rural areas of State, Rural development basing economic development , supporting primary health care ,promotion of rural sports and indigenous cultural, protection of tribal rights for genuine tribal people, motivation best human resource , strengthening patriotic feeling among the new generation  and women empowerment etc .
 Presently we are having more than 2700 villages in our contact and thousands of noble workers are contributing in this godly work. This year on the auspicious occasion of Silver Jubilee we have combined the celebration with annual conference. And we going to remembers AVP founded late Golgi Bote Talom Rubko, who working for all round development of Arunachal Pradesh.
During three days program we are going to introspect ourselves, take a review of our work, taking in account the strong and weak points, loop holes, make a concrete future plan and programme to prepare a vision document for next 25 years, by holding a State level workers Conference where all the workers will meet, share, interact and learn organizational skills from each other and invigorate their skill and full confidence imbibing enthusiasm towards making a Vibrant Arunachal Pradesh.  and more one thousands delegates or workers expected to attend the program from whole state.
Further he also informed that Governor of State Brig. Dr. BD. Mishra (Retd.) is being invited as Chief Guest of the inaugural function and Chief Minister of Arunachal Pradesh, Pema Khandu has consented to be the Chief Guest in valedictory function.
AVP Senior members and executive members Gyati Rana and B K Dubey also interacted the media person and elaborated several activities of the NGO and its achievement in the service of the people and mankind of Arunachal Pradesh.