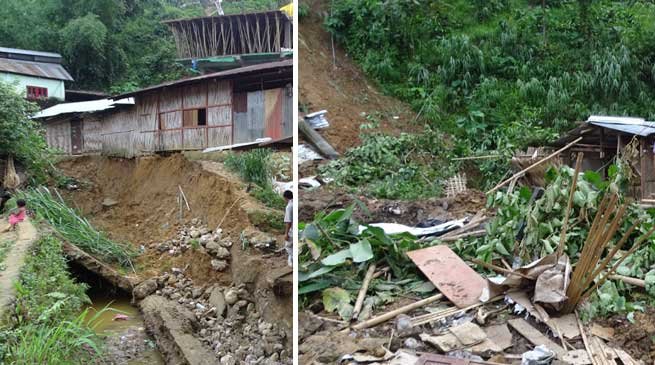 Itanagar
One young girl died while three other injured in severe land slide triggered by heavy downpour in Chimpu area of capital town on Monday.
Biki Anju, 18 years d/o Biki Talik a Class-X student of Secondary School Chimpu died on spot while three others received injuries when the (OBT/Kucha) house they were sleeping was hit by a severe landslide triggered by heavy downpour at around 4 AM this morning behind VKV Chimpu, The OBT house were the four friends and other family members of One Tagru Tamang, IRBN Head Constable were sleeping.
One out of three friends Bengia Nina received grievous hurt and under serious condition is undergoing medical treatment at RK Mission Hospital here.
Parliamentary Secretary (PWD, UD) and local MLA Techi Kaso alongwith IMC Councillor Biri Tukdo and Techi Mema visited the landslide hit affected area near VKV Chimpu, Sekey Colony behind Akashdeep Market where more than five dwelling houses have been completely damaged.
Kaso console the family members and provided immediate relief while assured to provide relief from the government.
He also appeal the local resident who are residing near the banks of river and below mountain slope to remain alert and have precautionary measures. He said that though we cannot prevent natural calamity but we can minimise the extent of damage if we are alert and maintain precautionary measures during the monsoon.