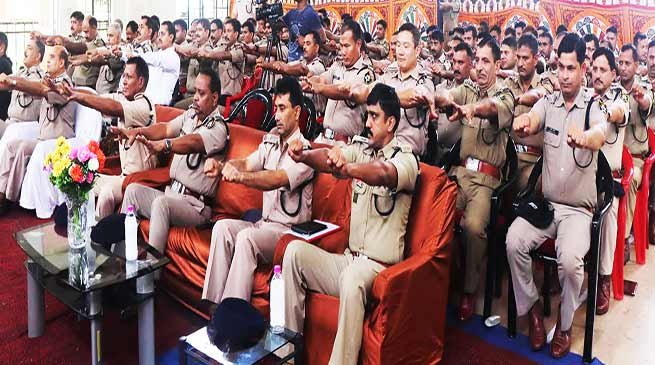 Itanagar
Have you seen anyone  with  boots in feet and belt in the waist, sitting  in the sofa and doing yoga or any exercise maybe not. However, such has been seen in  Itanagar on Monday.
A seminar on Yoga was organised at ITBP Head Quarter. On this occasion, Yoga Master Suchandan Das was giving a demonstration on Yoga, as well as telling about the benefits of yoga "As to how Yoga can keep the mind calm and the body can be kept healthy so that anyone can do these things in his or her working place and Keep yourself tension free".
All the officers present there who were in their uniform, boots in the feet, belt tightened in the waist and sitting on the sofa, began Yoga practice after being inspired by the master's motivational speech and why not,  they just have to do yoga at their work place in coming days  ……..?
When we showed these photographs to another senior person from Art of Living,  Ashok Thard  and asked about his opinion, he said that " the first instruction in yoga  practice  is to wear loose clothes, keep your body comfortable and  spinal cord should be straight during yoga exercise ".
Anyways,  while addressing the function Sanjeev Raina, Inspector General Incharge said that practising and performing Yoga  is not a burden for any personnel but is like a medicine without any side effect which help them to maintain themselves fit and fine.
Art of Living (AOL) Social Project Director Rajesh Kumar delivered his key note on the need of Yoga in life and its benefit and its effect in daily life including maintaining health with sound mind and healthy body.
Among others, ITBP DIG (Training) S. K. Sharma, DIG (Administration) Girish Chandra Upadhaya and all rank of officers of the Frontier Headquarters were present.