Arunachal
International Women's day observed in Namsai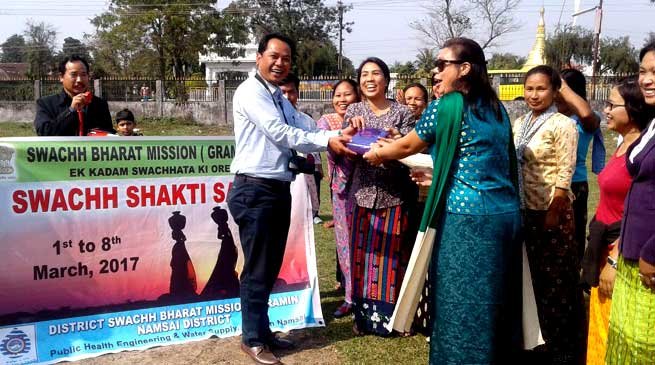 Namsai
NAMSAI CoSAAP District Unit in Collaboration with Women  & Child Development (ICDS), PHED, WWS and Khunta Nau welfare Society and NGO of Namsai has successfully observed and celebrated International Women's day on 8th March 2017 at Namsai Town Club in a befitting manner with a Theme of "Stop Sexual Harassment at work place'.  On the occasion a  Procession was also taken out in the Namsai Town with displaying banners and play cards, shouting with Slogans to stop sexual discrimination, Harassment, child education, women empowerments, Ghareylu Hinsa, Beti Bachao Beti Padao, Domestic violence, force marriage, Child marriage, Sex Determination, nurture Girl child, Respect women etc.
Deputy Commissioner of Namsai R. K. Sharma stress on the importance of celebrating Women's Day and hails the organizing committee CoSAAP, WCD & WWS and also supported by PHED under "Swachh Shakti Saptah" for conducting such an international programme to honour and give gratitude to women folk. He appeal to the august gathering to change the mind set on women's right of equality and women Empowerment.
ADC Namsai Shri B. Talukdar explained about its celebration worldwide 1910, since 1975 it has been celebrated in Arunachal Pradesh first at Pasighat, and the theme based on the priority and National   issues,it is being celebrated every year. He appeals the women to utilize their rights and Empowerment for good cause and not to misuse it.
Dr. C. M. Thamoung President of CoSAAP District unit in his speech explained about the themes of this year being different from international themes of "Be Bold for a Change" to "Stop Sexual Harassment in work Place" in India. He also give brief introduction about New district CoSAAP and its executive members.
Other resource person who spoke on the occasion was Dr.S.Monlai Astt. Prof. of AUS on Women Empowerment, Smt. W. Khimhun CDPO on Various Acts for protection & Safeguard of women, Dr. Monalisa Longkeing President Women wing of CoSAAP Namsai district unit on power of unity of women and Er. Bhupen Khamyang AE PHED Namsai explained about the "SWACHH SHAKTI SAPTAH" .
Under the SBM(G) SWACHH SHAKTI SAPTAH programme, the PHED along CoSAAP Honoured and Felicitated various groups of women under WCD (ICDS), WWS, Nursing Community, ASHAs for rendering their selfless service to mankind.
An NGO, KHUN TA NAU Welfare Society of Namsai also gave a felicitation to Nang Mukta Mannow 75 yrs old Lady of Lathao village, for her social and economic achievement.
The day long programe concluded with games and sport events, where NGOs won first prize and CoSAAP beg second in tug of war and musical chair.