National
Indore- Patna Exp derails, Death Toll rises to 90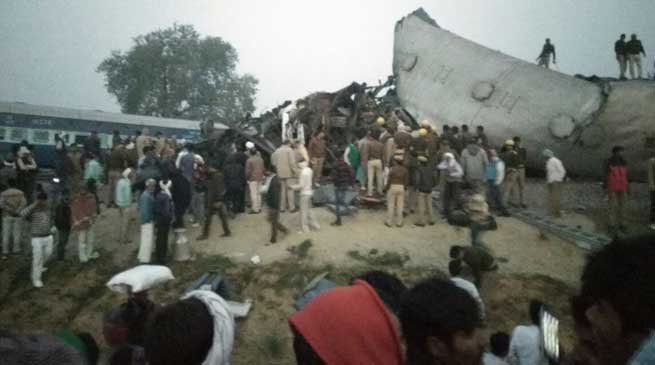 New Delhi
Indore- Rajendra Nagar  Express  has derailed near Pukhrayan , 100 Km from Kanpur in Uttar Pradesh, killing at least 90 people and injuring more than 200, 76 of them seriously, on Sunday.
The Prime Minister Narendra Modi has condoled the loss of lives due to the derailing of the Patna-Indore Express. PM Modi has announced ex gratia of Rs. 2 lakhs for the next of kin of those killed, and Rs. 50,000 for those seriously injured, in the rail accident in Uttar Pradesh, from PMNRF. This is over and above any assistance announced by the Railways.
Rs. 3.5 lakhs to be given to the departed's kin as ex-gratia, tweets Railway Minister Suresh Prabhu. Compensation of Rs.50,000 announced in case of grievous injury and Rs. 25,000 in case of simple injury. Mr. Prabhu adds that this ex-gratia amount is in addition to the compensation that will be available through the Railway Claims Tribunal.
Railway opened a counter at Patna Junction to provide information to the relatives of the passengers travelling in the ill-fated Indore-Rajendra Nagar express train.