National
India's Fastest train "Gatimaan Express" is all set to run on railway track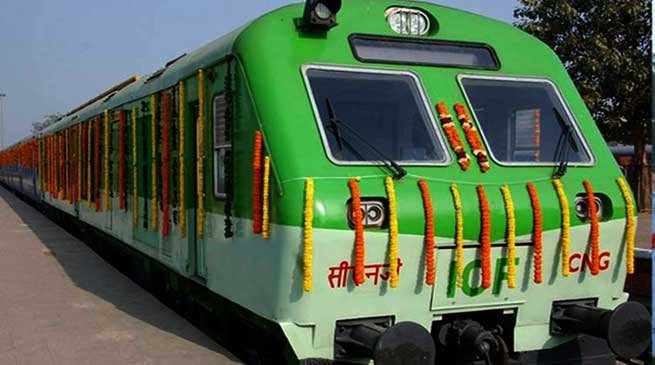 New Delhi
India's  Fastest train "Gatimaan Express" is all set to run on railway track from from Tomorrow , i.e. April 5th. Its maximum speed is of 160 KMPH. The train will run between H. Nizammuddin station and Agra Cantt. Station.
Tomorrow the train will be flagged off from H. Nizammuddin Railway Station by the Minister of Railways Shri Suresh Prabhakar Prabu. The launch of this train heralds a new era of high speed rail travel in India.
The Specialities of this train beside its speed are , on board catering, by Indian Railways Catering and Tourism Corporation (IRCTC).  IRCTC has made arrangement for deploying train hostesses also on board the train.
Another unique feature of this train is free of cost on board entertainment facility. Under this facility, passengers can view various entertaining videos during travel on their smart phone, tablets or laptops even without internet connection through WiFi.
The coaches to be used in Gatiman Express are new LHB coaches turned out by Rail Coach Factory(RCF), Kapurthala.  These coaches have been fitted with bio-toilets and are fit to run at 160 kmph.
The flooring of the coaches has been given marathon Shine treatment for cleaning and also given flooring a bright and shiny look. The train will be hauled by an electrical engine WAP 5 with horse power of 5500 HP.
This Gatimaan Express will run six days a week except Friday and will carry the numbers 12050/12049 in its regular trips.  The train will cover 200 Km distance from Nizamuddin to Agra in 100 minutes.
The regular run of train no. 12050 H. Nizamuddin-Agra Cantt Gatimaan will start from H.Nizamuddin station at 08.10 a.m. from 06.04.2016 to reach Agra Cantt.  at 09.50 a.m. the same day.
'Gatiman' Express train will comprise of TWO Executive AC Chair Car & EIGHT AC Chair Car coaches. The fare for AC Chair Car is Rs.750/- whereas it is Rs.1500/- for Executive AC Chair Car. No concessions are admissible in this train.