North East
Indian Army Apprehended Six AANLA Cadres from Karbianglong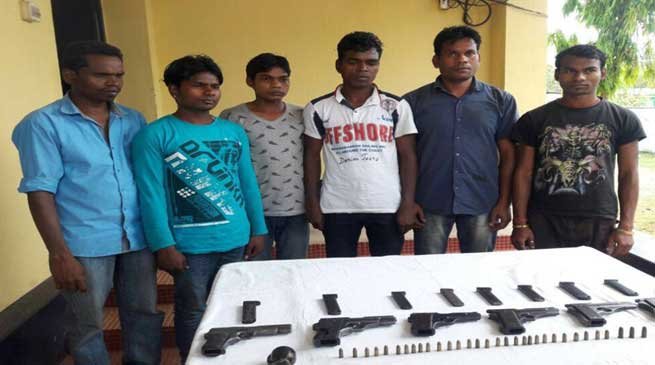 Karbianglong /Gossaigaon
Indian Army apprehended six hardcore-armed All Adivasi National Liberation Army ( AANLA ) cadres from East Karbi Anglong. Among the apprehended cadres one is Anand Nayak @ Dilip Nayak, who is the SS Chairman of the group. This surgical operation was launched on a accurate information of Army Intelligence. These cadres had recently entered East Karbi Anglong to carry out a weapons deal close to the Nagaland border and were nabbed from one of their transit location in Village Jilangso under PS Bakuliya.
Cadres apprehended are Anand Nayak @ Dilip Nayak (SS Chairman), Sumon Gaur (SS District Cdr), Mandeep Gour, Kanak Ram, Uttam Munda and Riten Munda.
Six factory made Pistols with ammunition (Two 9mm and Four 7.65) and two Hand Grenades were recovered from them.
One NDFB(S) terrorist from Gossaigaon market in Kokrajhar district was also nabbed by Army and Kokrajhar Police in a  a joint operation based on specific information on 03 May 2016. The apprehended individual was identified as Swrwng Narzary and he was involved in various cases of extortion, kidnapping, providing logistics support to NDFB (S). One Pistol along with two live rounds were recovered from the terrorist.