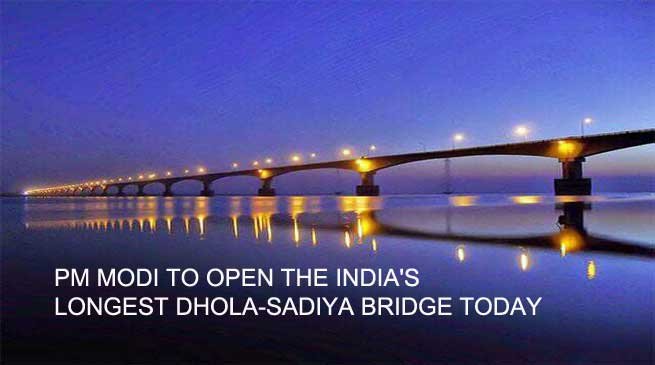 Guwahati
The inauguration of India's Longest River Bridge, Dhola Sadiya Bridge will be inaugurated by  prime minister of India Narendra Modi on 26th May 2017.  After inauguration the Dhola–Sadiya Bridge become officially operational. This bridge spans the Lohit River to connect the states of Assam and Arunachal Pradesh and is 9.15 kilometres in length. However, the New Ganga Bridge Project  with a length of 9.8km being constructed in Bihar for replacing the ageing Mahatma Gandhi Sethu and funded by Asian Development Bank is expected to get the tag of Longest bridge in India in future.
Construction began in 2011 under the aegis of the Ministry of Road Transport and Highways in public private partnership (PPP) with Navayuga Engineering Company Ltd. The bridge was scheduled to become operational from December 2015, but finish of construction works was delayed. The project cost around 10.00 billion rupees and will take around 4.5 years to complete. It is 3.55 kilometres (2.21 mi) longer than the Bandra Worli Sea Link in Mumbai, making it the longest bridge in India.
This bridge across Dhola will be one of the vital link in this Region which will not only give a relief to the existing transport network but also invites various developmental activities.
Any investment in this area is extremely desirable after qualifying the judgement criteria for social opportunity cost.
It will expedite industrial investments, provide access to health and educational facilities, will promote tourism in the region, and may increase in border trade between Arunachal and other South ASEAN Countries.
From Dhola Gaon to Sadiya Islampur Tiniali through Parsuram Kund bridge approx. travel time will be 8 hours and through Brahmaputra river ferry water service it takes about  4.50 hours. But the same journey through his new bridge will be only 30 minutes.