Itanagar
Impact of Assam's anti CAB protest : Arunachal facing fuel crisis
We are trying our best effort to bring normalcy in regards to distribution of  fuel ......CM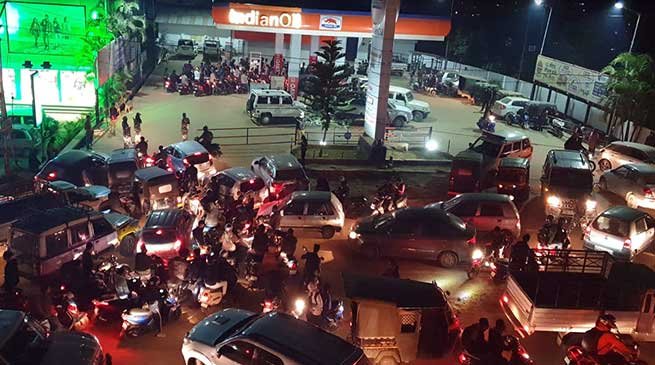 Itanagar
The effect of anti CAB protest is reflecting in Arunachal pradesh as Itanagar, the state capital complex today is facing an acute scarcity of fuel.
However Chief minister Pema Khandu assured that " We are trying our best effort to bring normalcy in regards to distribution of  fuel and other essential commodities in state and capital complex in particular.
Khandu, while taking to Arunachal24  said that "due to ongoing  protest  against Citizenship Amendment Bill-2019  (CAB) in whole of Brahmaputra Valley is affected the Transportation of all essential commodities in entire northeast region.
" I have talk to chief secretary early this morning to take a stock of the situation, I will try my best effort to bring normalcy of all essential commodities in state and capital complex", Khandu added.
Deputy Chief Minister Chowna Mein on Wednesday inform that he will direct the officer of the concern department for rationalization of essential commodities so that there is no scarcity in the state and capital complex as well.
With the intervention of Chief Secretary, the IOC Depot, Emchi has issued Diesel to oil tankers today to relieve the hue and cry of vehicle owners in Capital Complex.
Petrol pumps in Capital Complex was found dry this morning following Bandh Call in Assam after the parliament passed CAB bill recently.
Meanwhile a release issue by Capital complex administration said that due to bandh call by various organization in Assam the regular supply of MS/HSD from Numaligarh Refinery and Digboi have been disrupted.
Information received from Chief Depot Manager of lOCL(AOD) Emchi, Doimukh that the sufficient stocks are maintained to cater the fuel requirements of central Arunachal Pradesh including state Capital Complex at least for next two weeks.
Meanwhile few Retail out let/ Petrol pump was open in capital complex which experienced unprecedented rush of customer and huge crowd of customers. It was also seen the long queue public of men women standing for hours together having bottles in their hand to refill their two wheelers.