North East
IAF organised Cycling Expedition from Chabua Air Base to Delhi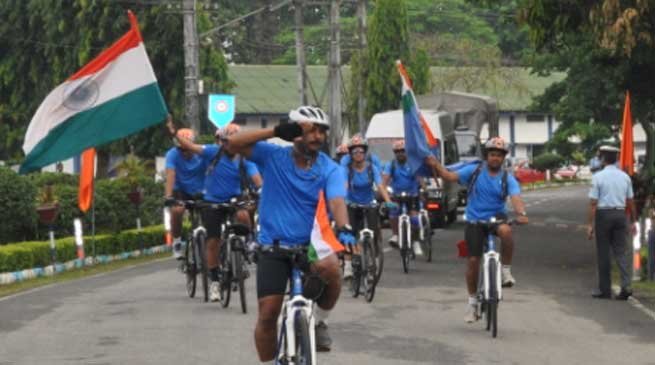 Chabua 
To commemorate the 84th Air Force Day on 08 Oct 16, a 19 member team of the Indian Air Force ( IAF ) set off on a 3200 Km cycling expedition from  Chabua Air Base (Dibrugarh) at 0630h on 06 Sep 16. The rally will culminate in New Delhi on 08 Oct 16 on the 84th Air Force Day.
The event is being organized by Directorate of Adventure, Air HQ, New Delhi and is named 'IAF Milan Cycling Expedition'. It is aimed to promote the 'Swachh Bharat Abhiyan' of Government of India and 'Go Green Idea' of the Indian Air Force. It will also showcase a spirit of adventure and emphasis on physical fitness. On the way, the team will interact with students and locals and motivate them to use cycles and reduce pollution.
The team named "Team East" is led by Wing Commander Jai Kishan and consists of Officers, Airmen, Defence Security Corps personnel and non combatant members.
The cycling team arrived at Air Force Station Guwahati on 11 Sep 16, and was received by Air Commodore BS Krishna Kumar, Kirti Chakra, Air Officer Commanding and other personnel of the station, with warmth, zeal and great enthusiasm. The team proceeded for the next lap on 12 Sep 16.