Arunachal
I Was Overwhelmed by Public Support On Social Media- Pul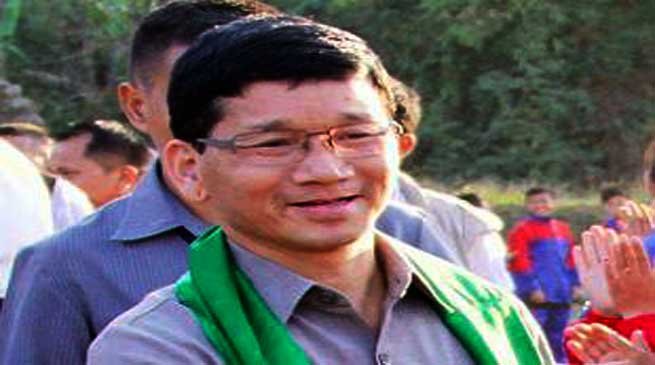 Itanagar
I am overwhelmed by public support through their extraordinary large number of SMSes, telephone calls and posts on social media that I have received from people in Arunachal and from other states in these last few days, expressing their show of support. This has left a deep impact on me, as has the long run of encouragement that I have been getting on social media in these months, commenting on my work and motivating me.
I am humbled by the faith that you have in me and would like to express my deepest gratitude for standing with me in these moments of trial. Though I am not able to respond individually, through this statement I want to reach out to each one of you and say that I will cherish your words of support all my life.
You have placed great belief in me and in my work and I want to reassure you that my commitment to service and public good will remain, whether I am in office or not. Your words will always resonate in my heart and encourage me and motivate me to work harder and contribute more than what I have. Of that you can be assured.
In 4 and ½ months that I have been in office, I have tried to serve the people to the best of my capabilities. With the support of my colleagues in the Cabinet and my MLA friends, I have put in place policies and made administrative decisions that I am confident will ensure people in Arunachal have jobs, get the best of public services, have access to quality education and healthcare and live life with peace and security. I express my thanks to them for having believed in me and I wish to put on record my appreciation for their support.
I would also like to thank the officials in the government, led by the Chief Secretary who have spent long hours to make these initiatives come into place. My appreciation and thanks also go out to the engineers in various departments who have always been there to ensure that public good and public services were delivered, be it in the repair of roads or working through nights to restore road communication.
This would also be an opportune moment for me to express my gratitude to the People's Party of Arunachal and its leaders. All said, the installing of a popular government at that juncture was truly a balm to the confusion and sense of insecurity that prevailed and brought back reassurances of democratic traditions.
I must not forget to mention and thank the many NGOs and community based organizations and even individuals who, in different capacities and on different occasions have extended their contribution in helping me in the task of leading a geo-politically strategic state like ours.
Now, the recent fire accident at Lower Chinkoi village under Dadam circle, 23 kms away from Khonsa, the devastating fire at Namsai daily market and the loss of life of Amit Tamang in the mudslide near Potin has troubled me much, more because I have not been able to personally go and visit the affected people. I convey my support and condolences to the family of Amit Tamang and to all those who have lost property in the fire. I will appeal to the government to extend the best possible help to the victims at the earliest.
I also take this opportunity to extend my congratulations to Shri Pema Khandu and Shri Chowna Mein for being sworn in as the Chief Minister and Deputy Chief Minister. Arunachal is poised at a new watermark in its history and today is the time for each one of us to re-dedicate ourselves to the service of this land we call home. It is only with a unified vision and collective efforts that we can truly take Arunachal to new heights.  ( Press Statement )