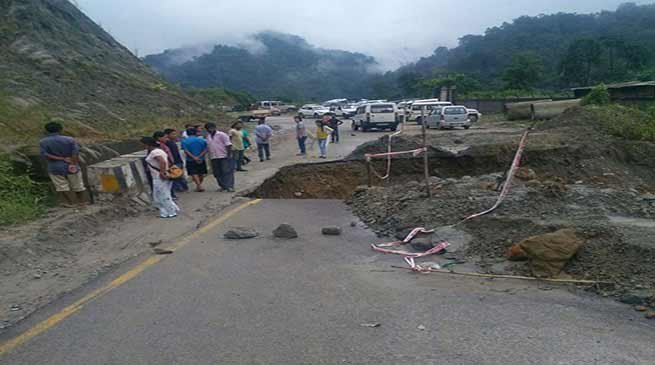 Itanagar
Heavy rainfall for last two three days shows  devastation in various parts of Arunachal Pradesh  including road disruption and loss of properties reported.
The Trans Arunachal which connect Lower Subansiri, Kurung Kumey, Kra Dadi district and other parts of state with state capital have been disrupted due to washed away of a culvert near Jampa in Doimukh Circle recently. Hundreds of vehicle which were stranded on both side of the block point was later diverted their rout Via Kimin Pohu mara road. Ziro music festival was also affected as the tourist have to face lots of difficulty as due to bad road condition between Yazali and Putin and the road blocked on TAH also added their fervour and zeal.
The commuters who were earlier going to East Kameng via Hoj Putin are requested to take the old road to Sagalee and then to their destination while the passengers of Ziro area are requested to take the road through Pohumara, Kimin and Putin for the convenient.
SP, Papum Pare Tumme Amo while said that commuters are requested  to take Kimin to Putin road till is restored or alternate arrangement is made
Balipara, Bhalukpong, Bomdila also affected owing to landslide at various places and traffic was badly affected, the Dirang township also disconnected in this regard however restoration work being done.