North East
Guwahati Frontier of BSF celebrated its Raising Day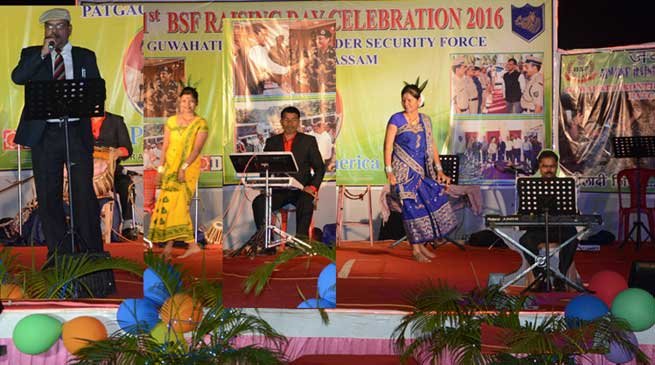 Guwahati
The Guwahati Frontier of Border Security Force (BSF) celebrated its 51st Raising Day with great pomp and show, at Patgaon, Guwahati, on 1st Dec 2016.
The Border Security Force came into existence on 1st Dec 1965, to guard International Boundary (IB) on Indo-Bangladesh and Indo-Pak Border. Besides its primary role of guarding India's IB during peace time, including prevention of trans-border crimes, the Force has been rendering yeoman's service in maintenance of law and order and helping citizens of India during natural calamities. Contribution of BSF in maintaining integrity of India with its deployment in countering militancy in Kashmir valley is well known to all.
Various events like Blood Donation Camps, Free Medical Camps, sports activities and cultural programmes were organised at Frontier HQ BSF Guwahati and the Sector HQrs at Dhubri, Cooch Behar and Falakata, in the run-up to this celebration. A customary Bara Khana was organised at every location of the Frontier followed by colourful cultural programmes which were witnessed by the Officers and Jawans, including retirees of the force.
Rakesh Aggarwal, IPS, Inspector General, BSF Guwahati Frontier, while addressing the men and their families conveyed his best wishes to them and the message of DG BSF on the occasion. He congratulated each and every BSF Jawan and their families for their whole hearted contribution in making a force to reckon with. He exhorted them to keep the flag of the force flying high and. motivated to follow the ethos of the force which fulfils the expectations of public. He appreciated the efforts made by the troops on the border due to whom the Frontier has the following achievement to its credits:-
S/No
Year
Cattle
Phensedyl
Ganja
Apprehension
Nos
Amt. Rs
. Nos
Amt. Rs
In Kgs.
Indian
BD
1.
2013
12,920
5,66,15,415/-
27,946
23,48,850
619
143
102
2.
2014
8,747
4,35,95,738/-
14,442
13,41,308
771.85
64
77
3.
2015
39,070
280320364/-
21555
2178956
1559.65
151
37
4.
2016 (30 Nov)
56,236
386540290/-
16842
1893361
2655.65
146
20