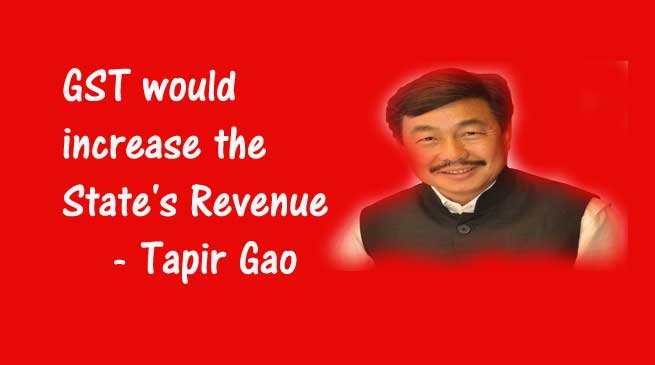 Itanagar
The GST (Goods and Services Tax) would increase the revenue of states by up to 25 per cent and the central government may never have to compensate them. Said State BJP President Mr Tapir Gao during a telephonic conversation with arunachal24.in.
GST will  simultaneously boost the revenue of the central government, which would lead to a bigger annual budget, increase in GDP and lower tax rates, added Tapir.
Tapir further said that  Now after GST more people would come under the tax net and tax rates would come down,".
Further Mr Tapir said that " For the first time, consumers will get to know the actual amount of taxes they are paying for goods and services in the form of a single GST rate that will be split between central and state governments". "At present, what is shown in an invoice is the VAT and in certain cases, the service tax levied by the central government". This does not cover parts of taxes borne by raw materials and services used by various intermediaries which get added to the final price of the item purchased but are not visible in the invoice. The efficiency of GST is expected to bring down tax burden and improve transparency" added Mr Tapir.
Meanwhile, the historic GST or goods and services tax has become a reality. The new tax system was launched at a function in Central Hall of Parliament on Friday midnight. GST, which embodies the principle of "one nation, one tax, one market" is aimed at unifying the country's $2 trillion economy and 1.3 billion people into a common market.